Tanzania Mennonite Church Outreach Projects
Wow, we've had a busy few days!  On Friday we spent 2 hours with Reverend John Magafu and colleagues discussing environmental justice issues facing rural Tanzanians in relation to the mining industry.  Tanzania produces many tons of gold each year, and is ranked 4th in Africa for the most gold production.  Additionally, Tanzania has other rare minerals and ores, some of which are found only in Tanzania — for example Tanzanite.
Reverend Magafu and colleagues are not opposed to mining, but are seeking to draw attention to the disproportionately high cost rural populations are paying for increased health problems, loss of small scale mining operations to large international companies, and pollution of waterways and soils in the wake of mining operations.
On Saturday we spent the day visiting two programs operated by the Eastern Diocese of the Tanzania Mennonite Church in order to see how faith-based initiatives are combating Tanzania's challenges related to poverty.  We started our day at the Tabata-Segerea Mennonite Church to visit the womens' water project.  Using donor seed money, the church dug a 70 meter well to pump fresh drinking water to the surface using solar panels.  The water is sold to local community members (and is fresh enough to drink without treatment).   The women obtain income from the project in addition to freeing themselves from the tremendous labor involved in walking long distances to obtain water.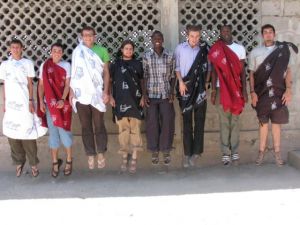 We were so warmly welcomed to this church:  the women said that "you are now our children and are always welcome."  They provided us with breakfast in addition to giving us each a kanga as a gift.   One member of the church is a maasai and he showed the men how to tie their fabric in genuine maasai fashion…. we even had a maasai jumping demonstration, which is documented to the right.
We spent the afternoon visiting another Mennonite Church south of Dar es Salaam, the Nyantira Mennonite Church.  The church has begun an outreach program serving more than 50 disadvantaged children in the community, some of whom have lost one or both parents.  The Goshen students met individually with the children for conversation… their Swahili is coming right along!
We presented the students with books, which one of our students brought from the U.S. (thanks Mark Meier!).  Before a meal together, the highlight perhaps, was a rousing game of duck-duck-goose, with a slight modification to twiga-twiga-simba (giraffe-giraffe-lion).
We left feeling appreciative of the generosity and welcome we felt from both communities, impressed with the practical and relevant work of the church, and challenged to think how we might participate in similar initiatives.