The Summer 2002 SST unit in Ivory Coast is over. But this website will remain available.
After a period of political instability, following the Coup d'Etat of December of 1999, Goshen College has returned to Ivory Coast in West Africa. Our Ivoirian friends, host families and colleagues are delighted to see us return.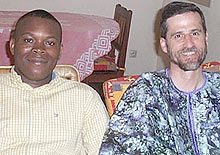 Professors Tom Meyers and Samuel Zadi will welcome 13 students on Friday, May 3rd. They will spend their first day at the unit house and meet their host families on Saturday afternoon.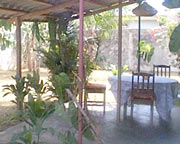 The Goshen house is known by many of our friends as the villa across the road from the "little" mosque in a section of the city of Abidjan known as the Jardin de la Riviera.
More images...