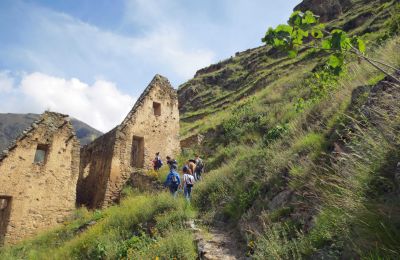 Information for GC students
Q:  What countries currently host SST?
A:  China, Ecuador, Indonesia, Senegal, Tanzania.
Q: What are my options in the next two years?
A: Units visit Ecuador every year and the other countries on alternate years. Here are the options for 2020 to 2022.
Q: But what about COVID-19?
A: Like all international education programs, we needed to cancel a number of units in 2020. This was disappointing for all, but safety is our highest priority. Students transferred to later units or signed up for SST alt courses. Our next units are scheduled to depart in May 2021. We remain in close contact with our partners within each country and rely on their advice about local conditions, as well as State Department travel advisories.
Q: How do I sign up for an SST unit?
A: Sign in to GC Online. Look for the box labeled forms in the lower right corner. Select SST Enrollment Form. Openings for SST units are awarded on a first come, first serve basis. So, the sooner you sign up for an SST, the more likely you are to go to the country in which you have the most interest.
Q:  How long does SST last?
A:  One semester (13 weeks total, half of the time in group study and learning, and half at a service assignment)
Q:  When do most students go on SST?
A:  Most students go during their sophomore or junior year, but the decision depends on a range of factors, including class and athletic requirements. Students must have at least 30 credit hours (equivalent to finishing your first year of college).
Q:  How large is an SST group?
A:  12-23 students, led by a faculty member and spouse or assistant
Q:  What is a typical service assignment?
A:  Assignments vary from SST to SST, but common assignments include:
Teaching English
Working in a school with children
Helping at a health clinic
Assisting in a community development project
Volunteering at Habitat for Humanity
Q:  Is SST affordable?
A:  Yes! Student tuition and room and board costs are the same as for a semester on campus. There is an extra travel cost of $500-$1000 for international units. Your financial aid package (including your grants and scholarships) will apply to SST just like it would if you were studying on campus. If you plan to do SST during the summer, be sure to meet with the Financial Aid Office since summer terms have different financial arrangements.
Q:  Is everyone required to go on SST?
A:  No, but one of the five core values at the foundation of Goshen College is global citizenship, so intercultural study is an important component of the Goshen Core. There are several ways to meet the intercultural study requirement, including participating in SST.
Q:  Are there alternative programs that I can choose?
A:  With the approval of the director of international education, students may fulfill their requirement through another program. Learn more about those options.
SST History
Q: When did SST begin?
A:  Experimental units were run in 1967, but the first official units were in 1968.
Q:  How many students have gone on SST?
A:  Over 8,000 since 1968
Q:  What other countries have hosted SST?
A:  Over the years, we have sent students to Belize, Cambodia, Costa Rica, Cuba, Dominican Republic, El Salvador, Egypt, Ethiopia, Germany, Guadeloupe, Haiti, Honduras, Ivory Coast, Jamaica, Mali, Morocco, Nicaragua, Poland and South Korea. Goshen College also offered a domestic Latino Studies program in which students studied and served the local Latino community for a semester in Northern Indiana.