Beijing and Xi'an
[After flying in to Beijing, the group toured Beijing and Xi'an, "on their way" to Sichuan Normal University in Chengdu, where they'll stay for about 11 weeks.]
Beijing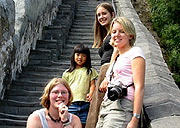 We had a great time in Beijing.û Half the group climbed to the top of the Great Wall at the Badaling entry (just outside of Beijing). Ruth, Kate, Elizabeth and Mia are pictured at right. More wall snapshots: students with Niles | group photo.

We visited Tiananmen Square, including the mausoleum that displays the preserved body of Mao Zedong, the Forbidden City and the Temple of Heaven.û The students also had opportunity to explore Beijing on their own.û

Xi'an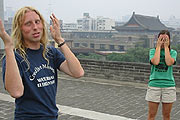 We took the train from Beijing to Xi'an.û In Xi'an we visited a historical museum and climbed the city wall.û On top of the city wall at Xi'an (at left) Ben and Martha and others practiced their own forms of yoga, but they were eventually interrupted from their reverie by Kent. The group also visited the Chinese Muslim community in Xi'an which is bursting with energy.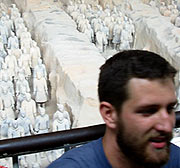 Wednesday we visited the terra cotta warriors museum just outside of Xi'an. The 8,000 earthen warriors (some of whom are shown here with Sasha) were put there by the Emperor Qin 2,200 years ago as protectors of his mausoleum. We also visited the archaeological site of Banpo Village--a 6,000-year-old matriarchal village.
Late Wednesday night we boarded the train to Chengdu, and arrived in Chengdu Thursday afternoon.