We finished our unit on religion with a lecture that included the history of Islam in Senegal and the development of the brotherhoods.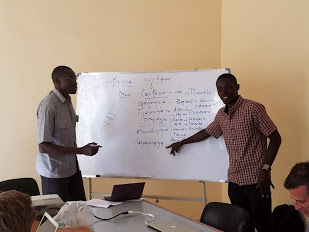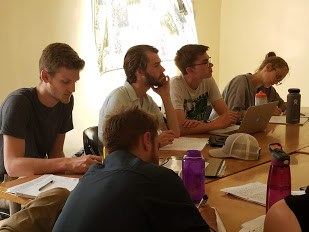 On Thursday morning we boarded our bus and headed north to the city that was very important during the colonial era. St. Louis was the center of French West Africa and was also the first capital of Senegal and was even the capital of Mauritania for a period of time.
We spent the night at a center (Yoonu N'Jub or the Way of Righteousness) that provides vocational training for girls and boys who are not in school and do not have great prospects for their future. It was in the heart of the most densely populated and poorest area of St. Louis.
On Friday we went to the historic island of St. Louis where we explored the city via horse cart. Our guide told us about the history of the people and the French Colonial architecture. The island has been named a UNESCO World Heritage site. However, many of the buildings that were built centuries ago are beginning to deteriorate. When the cement exterior wears away one can see the bricks that were first imported from France and later made on the mainland that were resistant to the salt air.
We also went to the long strip of sand (Langue Barbarie) that is across a bridge from St. Louis. This area is almost entirely populated by people from the Lebou ethnic group. They have been fisherman for a very long time. Unfortunately their land is being taken over by the rising sea. Buildings are being destroyed by the ocean and the estimate is that within the next 20 years this land will disappear and along with it will go the livelihood of its inhabitants.