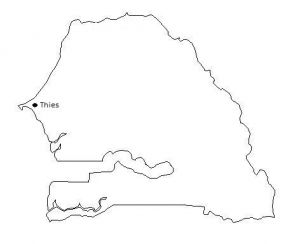 Patrick has remained in Thiès for his service assignment, but in doing so has also moved to a new host family.  He has been assigned to Barthimée clinic, part of a mission program, which is also on the verge of being recognized officially as a hospital. His days are varied, as described in journal excerpts below.  Patrick, a trained EMT, has observed and given some assistance in surgeries, and he has had at least one chance to accompany other medical staff on a one-day visit to a local village to help administer polio vaccine.
Patrick writes:
Life at Barthimée has been great.  Well, the first couple of days were weird, but now that I've settled into the routine, I really like it.
I tend to have 2 kinds of days.  When I'm assigned to work with the nurses my days are pretty slow.  Usually I'm assigned to the Salle de Soins (the room where bandages are changed) or the Salle d'Observation (where injections are given or patients are kept for observation).  Normally the two rooms don't see a lot of use, so I spend a lot of time chatting with the nurses, watching the World Cup, or even working on my play …  : )
Other days though, I'm assigned to Dr. Ted or one of the other doctors and those days are much more hectic.   … I tend to spend most of my time with the surgical team or other (foreign) volunteers who wander through.
To be honest I can't help with a lot.  The regular staff all know what they doing, and a lot of the more advanced stuff is way beyond my certification.  However, I am managing in small ways to help, even if it's only by entering information or mixing saline solution into powdered medications or whatever.
I will say this.  I'm learning a ton AND I get to wear scrubs all day, which are perfect for the Sénégal heat.  It's great.