Week Five: Saying goodbye to Lima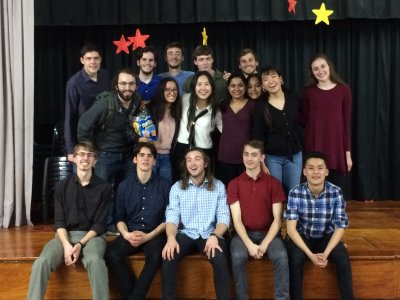 This week, we wrapped up our studies with our final lectures, student speeches and Spanish classes, and we looked ahead to the service portion of SST, which is just around the corner. Not only that, we also hosted a party!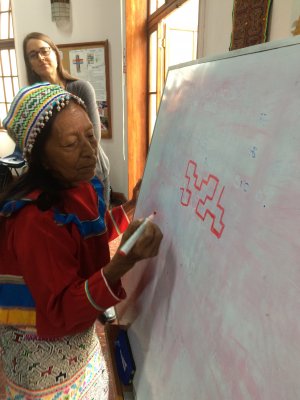 We had our final lectures and language classes on Monday and Tuesday.  On Monday, we heard from Rebeca Rivadeneira and Roger Márquez about the Shipibo-Conibo culture of the Amazon. Roger is a member of this indigenous group and he and Rebeca have worked for many years as missionaries with the Shipibo. In addition to giving us insight into the cultural values of the Shipibo community, Rebeca and Roger also told us stories from their lives together as a bicultural couple and talked about how we can approach the challenges of intercultural communication. The key message? Observe, and be flexible! Afterwards, we had a chance to try our hand at a Shipibo art known as kené.  Roger's sister, Esther, who led the workshop, told us about the mythical origins of this geometrical art form (it was inspired by the designs on the skin of a sacred anaconda) and provided us with the materials to create kené designs. At the conclusion of the workshop, we were served a typical lunch from the Amazon region — juanes (rice, chicken and egg wrapped in bijao leaves), chapo (banana juice), and a side of plantain chips.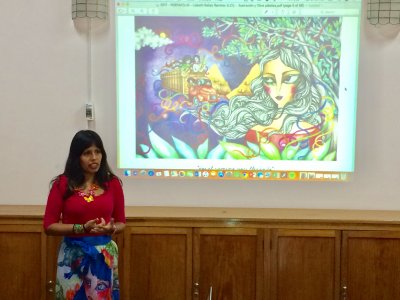 On Tuesday, we  heard from artist and activist Lici Ramirez about women's issues in Perú and the ways in which women activists are leading the way in creating a more just society — from court reform to protecting natural resources. Afterwards, we walked to a park in Miraflores named for writer Clorinda Matto de Turner. We camped out on the sidewalk and heard the remaining student speeches on Peruvian writers and activists. Following the speeches, we enjoyed a picnic lunch that Alicia had packed for us.
On Thursday, the students spent the day preparing for the despedida, the party where they bid farewell to their Lima host families and thanked them for 5 weeks of hospitality. Students designed the invitations, decorated the hall, planned the program, prepared the food and acted as servers for their families. Gabe and Matthew were the emcees for the evening's festivities. Profesora Ana's class wrote a skit entitled Sra. Aventura/Miss Adventure about a group of lost SSTers on a quest to find the Plaza de Armas.  It was received with lots of laughter and enthusiastic applause. Willy Villavicencio, GC service coordinator, gave host families a brief glimpse of what the students' lives will be like in their new locations as they head into the service portion of SST. Each student also had an opportunity to come on stage and individually thank their host family for the loving care they have received. People who were strangers to them 5 weeks ago have become like family.
Even after their late-night despedida, students managed to make their way to Casa Goshen on Friday morning for an all-day orientation session where they learned more about what to expect during the service portion of SST. This term, students will be serving in the regions of Ayacucho, Chincha, Arequipa and Cusco. In addition to getting some more information about their service work and host families, students spend time thinking about how to approach their role as volunteers, and brainstormed strategies for adjusting to a new living situation.
Tomorrow we depart for the a week-long trip in the Sacred Valley, where we will visit many archaeological sites in Cusco and surrounding areas, including Machu Picchu. Students who are doing their service in Cusco will remain in Cusco,  and the rest will return home to Lima for one day to repack their things, and then they will depart by bus for their service locations next Saturday evening/Sunday morning.