Week Five: Saying farewell to Lima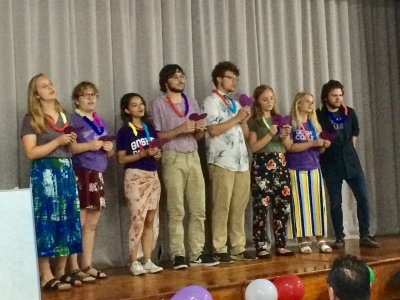 This week was spent enjoying our few remaining days in Lima, as well as looking ahead to the adventures that await outside of Lima in the coming weeks.
This week, we completed our schedule of lectures and classes. On Monday, we heard a lecture on religious syncretism in Peru from Jorge Zamudio, the rector at Catedral Buen Pastor. After a short break, we heard from Rebeca Rivadeneira and Roger Márquez about the Shipibo culture of the Amazon. Rebeca and Roger are missionaries who work with the Shipibo. In addition to giving us insight into the cultural values of the Shipibo community, Rebeca and Roger told us many stories of their lives together as a bicultural couple and about ways we can approach the challenges of intercultural communication.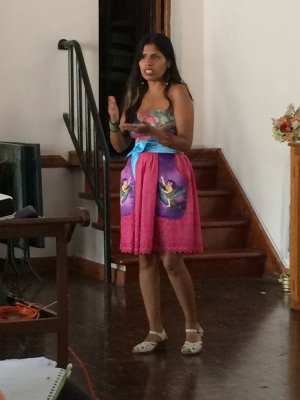 On Tuesday, we  heard from artist and activist Lici Ramirez about women's issues in Peru and the ways in which women activists lead the way in creating a more just society. Afterwards, we walked to two parks in Miraflores which were named for women writers Mercedes Cabello de Carbonera and Clorinda Matto de Turner. We made ourselves comfortable in the shade and heard the remaining student speeches on Peruvian writers and activists. Following the speeches, we enjoyed a picnic lunch that Alicia had packed for us.
Wednesday and Thursday were spent getting oriented for the service portion of SST which will begin when we return from our Cusco trip next weekend. This term, students will be serving in the regions of Ayacucho, Chanchamayo, Chincha and Arequipa. In addition to getting some preliminary information about their service placements and new host families, students spent time thinking about how to approach their role as volunteers, and brainstormed strategies for adjusting to a new living situation.
Students spent all day Friday preparing for the despedida (good-bye party) for their host families and teachers. Student committees worked on invitations, food prep, decorations, and planning the evening's program. Pamela and Clara acted as the emcees for the program entitled 'Comida y Comedia'. The Spanish classes reprised their pop-song karaoke competition to thunderous applause, but the highlight of the program was the performance of an original play written by Erin, Clara, Simon and Pamela, in which Nick (à la Jimmy Fallon) wrote thank-you notes to Peru, while they were dramatized behind him on stage. The group sang a final number to thank each of the families for being part of their sojourn in Peru thus far, and the show ended with hugs, cards and flowers for their host families. It was an evening filled with laughter, music, chocolate chip cookies and immense gratitude.
On Sunday, we leave for a six-day trip to Cusco, where we will visit many sites in and around Cusco, including Machu Picchu. We are all looking forward to this opportunity to explore the culture of Peru's highlands, both ancient and modern.