Oriented and Ready for Action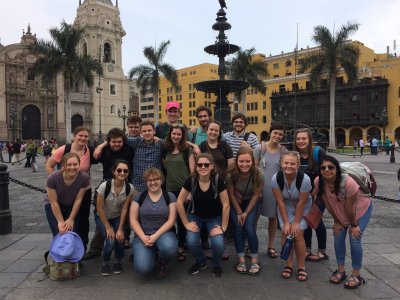 We have spent a packed three days here in Lima getting ourselves ready to meet the delights and challenges that await us this semester. We have practiced public transportation, made purchases using a new currency, ordered in restaurants, and had many new words rolling around on our tongues and in our brains. It has been a wonderful three days of intense learning and a great start to our semester in Perú.
Day 1 — Thursday
Our first stop after leaving the hostal was a casa de cambio (money changing business) where each student turned some of the dollars they brought from home into Peruvian soles. Once at Casa Goshen, we did a brief overview of the components of our course of study for the semester. Students on Perú SST receive course credit for courses in Spanish language, Intercultural Communication, History and Culture of Perú, Arts and Literature, and the Natural World of Perú. Over the course of the semester, students will complete extensive reading assignments, attend Spanish classes three to four afternoons a week, write journals, take quizzes, give speeches, and complete a research project on a topic of interest in Perú.
At lunchtime, we left all thought of syllabi behind and took a short stroll to the malecón, a walkway and park system running along the coast of Lima. After enjoying a picnic lunch together, we took the long stairway down the cliffs and across the highway to the rocky coastline. We had a chance to listen to the waves, search for interesting stones, and build cairns. After walking ALL the way back up those stairs, we returned to Casa Goshen for a fruit-tasting prepared by Alicia Taype, GC program assistant and caterer. Students got to sample a variety of the amazingly sweet, sour, creamy, and seedy fruits currently in season in Perú.
During our next orientation session, students created "What's wrong with this picture?" skits based on the information in their orientation handbooks. Students succeeding in creating many problematic scenarios which they have assured us they will NOT emulate. Later in the afternoon, Lima Study coordinator Celia Vásquez gave students a True/False Quiz about Peruvian culture, where students learned about kissing on the cheek, 'Peruvian time', how to enter and exit a room, and just how long a party can go on in Perú.
Day 2 — Friday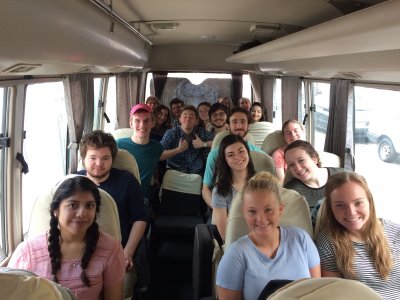 On Friday, we got to do some touring in the historic center of Lima. We were able to get permission to tour the Palacio del Gobierno (Government Palace), which is open to visitors through an application process. The Government Palace is the official residence of the Peruvian President and also the central seat of the Peruvian government. From there, we toured the Convento Santo Domingo, a monastery which is the burial site for Santa Rosa de Lima and San Martín de Porres, Lima's two most venerated saints. It was also the birthplace of San Marcos University, Perú's first university and the oldest university in the Americas. A highlight of the tour was climbing the 400 year-old stairs up the bell tower for a 360º view of the city of Lima.  We finished the tour just in time to return to the Plaza de Armas to catch the ceremonial changing of the guard, which happens every day at noon outside the Government Palace.
Day 3 — Saturday
We spent the morning in Óvalo Gutierrez, an area near Catedral Buen Pastor, the church where our classes are held during the study portion. Students completed a series of walking tasks in the vicinity of the Óvalo, such as asking for directions, comparing prices between international chain stores and local shops, and loading credit onto their Peruvian cell phones. They were all great observers, brave speakers of Spanish, and now have functioning phones to make calls to their directors and host families.  After eating a menú lunch at a restaurant near the Óvalo, the students learned the walking route from the church to Casa Goshen.
Once at Casa Goshen, we were down to the nitty gritty, with information about how students will deliver payment to their families, how they will manage their transportation money and where they will be living. Students will be living in 11 different districts throughout Lima and will take all shapes and sizes of buses (and two students will also take a train!) to arrive at their classes every day. Lastly, students prepared to meet their families by practicing the pronunciation of their family members' names and practiced greeting them in the Peruvian style.
At 4:30, we walked back to the hostal where a few families were already waiting to pick up their students. They were warmly greeted with hugs and kisses from the host families and within an hour, all students were on their way to the homes where they will spend the next five weeks. After spending the rest of the weekend getting acquainted with their host families, students will meet at the church bright and early on Monday morning for their first full day of lectures and classes.