The Sun Sets on our Peruvian Pilgrimage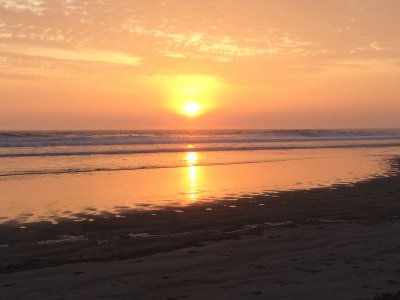 On Saturday morning, we left for Kawai, a retreat center about two hours south of Lima. We had time to share our stories, reflect on what we have experienced, and to prepare for our return home. Students also presented their research projects which showcased their areas of interest and fields of study. And of course, there was also time to swim, walk on the beach, play, make s'mores and enjoy our last days together as a group.
On Monday afternoon we returned to Lima, repacked our suitcases yet again, ate our last meal of pollos a la brasa, and headed for the airport. The return flight left Lima at 2:05 a.m. this morning, and by 2:30 this afternoon, the group was touching down in Chicago. As the Fall 2018 unit comes to a close, we are full of gratitude for the opportunity we have had to get to know each other, ourselves, and the amazing country of Perú. It has been a pleasure to walk this pilgrimage with you.