Week Five: Saying our Goodbyes to Lima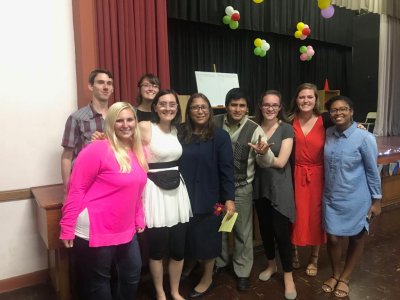 This was our last week of study in Lima and it was a full one! On Monday, we heard a lecture on gender issues in Perú given by artist and activist Lici Ramirez. On Tuesday, we visited the Cantagallo school. This school was founded by a few hundred members of the Shipibo community, an Amazonian indigenous group from the far Eastern side of Peru, who resettled in the center of Lima. Their language – Shipibo – is one of about 50 indigenous dialects spoken by various Amazon tribes. This bilingual school (Spanish/Shipibo) was founded with the hope that the children of their community would grow up identifying themselves as Shipibo even though they are far from their original Amazonian territory. On our way to the school, Roger Márquez, a Shipibo pastor, talked to us about the Shipibo worldview and the struggles faced by Shipibo who live in Lima. During our visit to the school, we spent some time observing in the classrooms, and afterward, we had a chance to learn a Shipibo art form known as kene. Roger's sister, Esther, told us about the mythical origins of the artform (it was inspired by the designs on the skin of an anaconda) and provided us with the materials to trace kene designs. Afterward, we were served a typical lunch from the Amazon region — juanes (rice, chicken and egg wrapped in bijao leaves) and fried plantains.
On Wednesday, we visited Museo Larco, a museum that features a large collection of ceramics, metalwork, textiles and other art from before the Spanish conquest. Through this amazing collection, we learned about the indigenous societies that populated Perú for thousands of years before the Incas, such as the Chimú, Nazca, Moche and Wari. The museum itself is housed in a 17th-century mansion build on top of a 7th century pyramid. After returning from the field trip, the students ate a quick lunch and then took their final exams for Spanish and Peruvian Sign Language.
On Thursday, the students spent the day preparing for the Despedida, the party where they bid farewell to the Lima host families and thanked them for 5 weeks of hospitality. What had been a lecture hall at Buen Pastor church on Monday became a stage for music, drama and celebration. Students decorated the hall, planned the program, prepared the food and acted as servers for their families. Two student-created skits were the highlight of the program. One skit, written by Sophia, Vianey, and Elise, was a gameshow about Peruvian history featuring iconic Peruvians both past and present. The other was a skit written by the Peruvian Sign Language class, "Being Hearing in a Deaf World", which featured a hearing student trying to manage situations such as a shopping and riding a bus, when everyone around them was only signing. These skits were performed to great acclaim, and were received with lots of laughter and enthusiastic applause from the host families. Willy Villavicencio, GC service coordinator, also gave host families a brief glimpse of what the students' lives will be like in their new locations as they head into the service portion of SST. Students presented cards to their language teachers and GC program associates, Celia, Alicia and Willy. And throughout the program, each student also had an opportunity to come on stage to individually thank their host families for the loving care they have received over the last 5 weeks in Lima. People who were strangers to them 5 weeks ago have become family.
Even after their late-night Despedida, students made their way to Casa Goshen bright and early on Friday morning for an all-day orientation session where they learned more about what to expect during the service portion of SST. They got more specific information about the locations where they will be doing their service, the work they will be doing, and a little bit about their new host families. Tomorrow we depart for the a week-long trip in the Sacred Valley, where we will visit Machu Picchu and the many archaeological sites in Cusco and surrounding areas. Students who are doing their service in Cusco will remain in Cusco and the rest will return home to Lima for one day to repack their things, and then they will depart by bus for their service locations next Friday evening.