Week Four: Stories of Violence and Resilience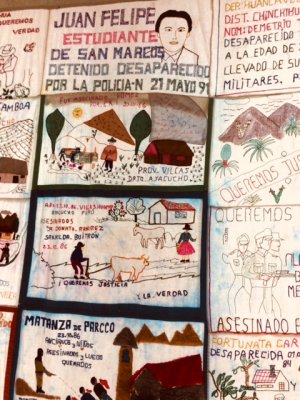 We spent the first part of our week studying about the period of conflict between revolutionary groups and the state which took place in Perú during the 80s and 90s. Felix Reátegui, a professor at Catholic University of Perú and member of the the Institute for Democracy and Human Rights, talked to us about the origins of the conflict, and gave an overview of the main actors and pivotal events. Reátegui, who was also an advisor to the Truth and Reconciliation Commission, talked about the process of truth-seeking after the conflict, and the importance of recognizing the victims and the wrong-doings as part of the path to true peace. Afterwards, we heard from Jerry Acosta, a local pastor, who shared a first-hand account of living through the conflict. The following day, we visited Lugar de la Memoria, la Tolerancia y la Inclusión Social (Place of Memory, Tolerance and Social Inclusion), a museum dedicated to promoting understanding of the events that led to the conflict. It is also a memorial to those on all sides who lost their lives during the conflict. It was a sobering visit.
On Thursday, we heard from Dr. Robert Tarazona on the topic of healthcare for the poor in Perú. Though the overall number of people living in poverty in Perú has declined over the last two decades, people living in rural areas are still much more likely to be living in extreme poverty as compared to urban areas, and this gap has not improved. The life expectancy of a person living in the most impoverished areas of Perú is 15 years lower than someone living in Lima. Later in the morning, we had a demonstration of traditional medicines by Alicia Taype, GC program assistant. Alicia prepared 10 medicinal teas for us to sample, as well as fresh aloe and a paste made of toasted barley which is used as a nutritional supplement. These preparations, which Alicia learned from her mother, are treatments commonly used in the Andes where there is often little access to medical care and no money to buy medicines even if they are available.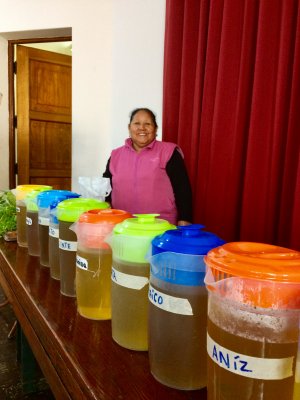 On Friday, we visited the offices of Manos Amigas, an organization that distributes products created by Peruvian artisans to foreign markets. Their largest customer is Ten Thousand Villages, and many of their products can be found in the Ten Thousand Villages store in Goshen. They are a fair trade organization and operate according to 10 principles set out by the World  Fair Trade Organization. These principles include (among other things) payment of a fair price, good working conditions, capacity building, no child labor, and respect for the environment.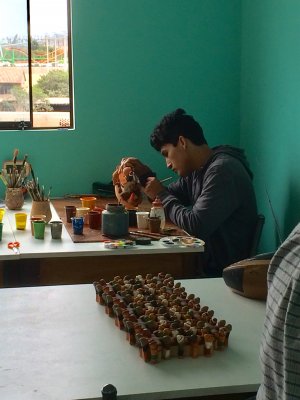 We visited the studio of one of their artisans, Leonidas Orellana, who produces ceramics. Leonidas left his home in the Andean highlands during the violence in the 80s and relocated to Lima. He brought his trade with him to Lima and started making ceramics. He has since built a thriving business with help from Manos Amigas. In fact, he has been so successful that after this year, he will be phased out of the Manos Amigas program and be able to distribute his art independently. After a demonstration from Leonidas, students spent some time working with clay, and had an opportunity to do some painting in his rooftop studio. Afterwards we were served lunch by Leonidas' family.
On the way home, we stopped for a treat at the home of Luisa Bossio, a friend of the SST program. She prepared picarones, a traditional Peruvian doughnut. These doughnuts are made of squash and sweet potato flour and covered with a syrup made of molasses. While the students ate their picarones, Luisa talked about her work in the Women's Prison near her home, where she has volunteered for more than 25 years. She teaches the women to make handicrafts which they can sell for income. She also works with the children who are living in the prison with their mothers. Children stay in the prison with their mothers until age 3 if there is no one outside to take care of them. Luisa and other volunteers are able to take the children out three times a year for field trips.
Many of the stories we heard this week were heavy, but we also saw many examples of resilient people who are moving forward despite difficult odds and horrific happenings. We also met people who care deeply about the well-being of others and are finding creative ways to help and heal.