Overnight Trip to Cono Sur – Part 1
Friday, May 19.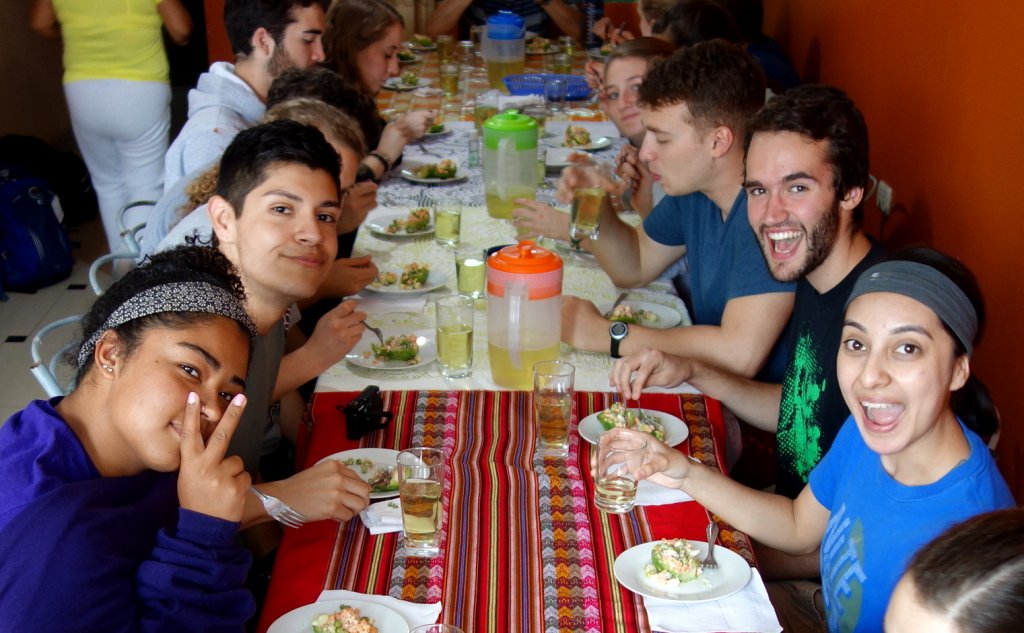 We spent Friday and Saturday in the Cono Sur, the southern region of Lima that, like the area we visited on Friday of last week, saw explosive growth in recent decades from massive influxes of people from the rural highlands.  Most residents of Lima live in lower-income areas like this, rather than the more upscale center of the city where we have classes each week.  During this 2-day visit we will do some service work as we also get to know some of the residents and their lives.
On Friday our day started at a community center that serves children for low-income, at-risk families.  The director explains the programs they provide, including daycare, after-school help with homework, and limited healthcare.  The rest of the morning was spent in a service project for the center, painting some of the walls.
Parts of our visit were hosted by connections GC has with people from this area.  Lunch was at the home of Alicia, the housekeeper at Casa Goshen and the cook who prepares our lunches between classes about 2-3 times per week.  After lunch we traveled to the home of Corpusa, the sister of Willy, our service assignment coordinator.  The area where Corpusa lives, like most areas of Lima, began as a spontaneous mass migration of people looking for land in a city with insufficient urban planning to meet demand.  These are commonly referred to as "land invasions."  She described what it was like to be part of a group of 3,000 people who initially settled here and lived under straw mats.  Later Corpusa's family could build a plywood home, and, after more than a decade, were finally given official titles that let them build brick structures and get connected to municipal water and electrical services.
For the rest of this afternoon the students engaged in volleyball and soccer games with some local teams from the neighborhood.   These took place in the neighborhood's park area under high tension powerlines where houses can't be built.  Although our volleyball team played well but lost in the end, our co-ed soccer team, which played a local all-boys team, came away with a 5-3 win.
Later we'll post another entry for our activities on Saturday, volunteering at an urban garden project where previous GC students have also worked.