The second service visits in Ayacucho: Tim and John
Thursday and Friday, Oct. 27-28.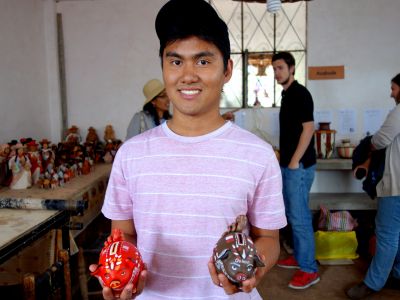 Ayacucho has traditionally been famous for having 33 large Catholic churches, its large Easter week celebrations, and for being the site of a famous battle for South American independence.  But in recent history it is best known, tragically, as the birthplace of the Shining Path (Sendero Luminoso) terrorist movement that had its zenith from 1980-2000.  An estimated 70,000 people, disproportionately civilians, were killed either by Shining Path or government security forces during the conflict.
Tim works at The Museum of the Memory (El Museo de la Memoria), dedicated to teaching future generations about the conflict.  It began as an organization of mothers of those who had been "disappeared" by either Shining Path or the military, but a group from Germany that works to keep alive the memory of the Holocaust urged the mothers to begin a museum that would teach future generations about the Conflict, so that it is never repeated.  After Tim introduced us to the museum and his work, we went to his home for lunch with his father, Samuel (a pastor), and mother, Julia.
John lives a 45-minute drive outside Ayacucho in the small village of Quinua, famous for its artisan crafts, the livelihood for most of the town's population.  This suits John, an art major, very well.  Even better, he lives and works in the home of the town's most famous potter, Maximilio Limaco.  Rachel, Alex, and Tim joined Maria and Doug for the trip to Quinua to visit John, arriving in time for a traditional Andean lunch with the family.  During our visit several groups of tourists came shopping at the combination home/art gallery.
Quinua is most famous for having been the site of the 1824 Battle of Ayacucho, where South American forces fighting for independence defeated the Spanish royalist army.  John took us to the historical monument and battlefield, where the students also rode horses for an hour.