Marissa Hochstetler attended a very impressive party with her host family in Lima last month.  Here is her riveting account.  Note: students on SST frequently call their host families "mom, dad, brother, sister," etc.
Text and photos by: Marissa Hochstetler
The day before the party, my dad gave me the low-down about the following day's events.  Even so, I had no idea what I was in for.
I knew the party as all day–I had read the official schedule in the invitation.  The first event was breakfast–soup, with a large piece of meat in it.  We left at 10:30 for what I thought would be an all-day event.  I was surprised when my sister suggested I wear shorts and a t-shirt; would these be formal enough for such an event?  When we arrived at the party location (my aunt and uncle's house) I was introduced to cousins, other extended family members and I was greeted countless times with the traditional Peruvian kiss near the cheek.
I soon realized that we were the decorating committee!  We blew up balloons and then proceeded to tie them up, along with other gifts (strainers, baskets, pitchers, towels, t-shirts and other things) in a couple of trees purchased just for this event.  After the trees were filled, the men worked together to hoist the trees into the holes that had been dug in the courtyard.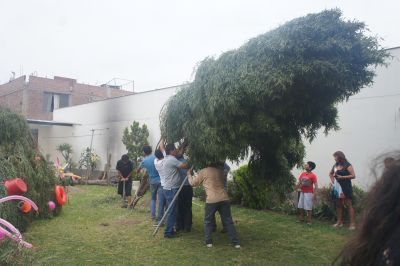 Soon after we were served lunch: potatoes and a plate full of both chicken AND steak.  (Before I received it I hoped it was for 2 people–no such luck!)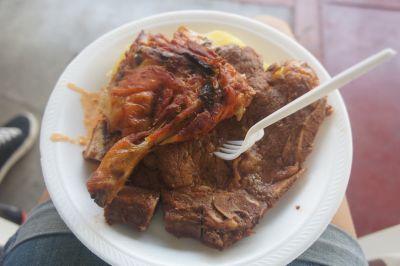 The traditional activities that take place at this "Carnivale" are all methods of planning the next year's fiesta.  The first dance revolved around a duck in a tree, dressed up in a satin costume, suspended in a basket!  As people danced around (with a live 11-piece brass band), they would stop, have a celebratory drink, and pull a ribbon off the basket with the duck.  Each of the ribbons would tell you how many soles you would have to donate next year, or even if you're responsible for next year's duck!  I was dancing with my host-parents when they pulled me to the middle and instructed me to take a pink ribbon.  So, next year I am responsible for donating 30 soles.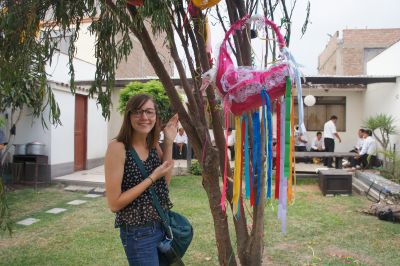 The next dances were all about cutting down those trees.  Even the kids got to try their hand with the axe!  Basically, everybody would dance around the tree, help themselves to a drink near the tree and try a couple of blows with the axe.   I dancing in circles with my cousin Paul when my parents decided it was time for me to try swinging the axe!  My family had said earlier that I was going to be the one to cut down a tree, but I had heard earlier that that would mean I was responsible for providing next year's tree.  For that reason, I wanted to be sure I was NOT the person to send the tree falling.  I swung a good number of times as my parents and sisters yelled, "Mas fuerte!  Mas fuerte!"  I handed the axe to Paul.  He sent the tree to the ground and 40 middle-aged Peruvians stormed the fallen tree to grab those goodies.   Later, I found myself hoisted on some shoulders and sprayed with Cerveza–it was a lot to take in at one time, let me tell you!
The night continued with more dancing, more fallen trees (there were many), a lot more Cerveza, and numerous relatives reminding me that I am required to be in attendance again next year.  That that, I resonded, "I wish!"  Around 11 p.m., there was soup.  By midnight, I was pretty tired after 6 full hours of dancing and socializing.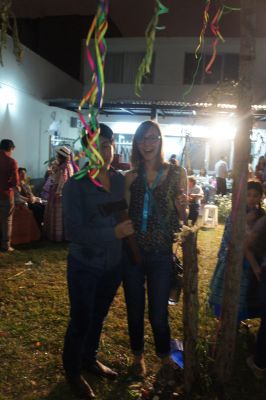 As I thought about my day, I felt full of life, food and family.  I successfully communicated with people outside my immediate host family, I "went with the flow" without over-analyzing, and I said yes to opportunities at the risk of looking silly.  I had just one of those SST experiences everybody hopes to have and I not only survived, but I thoroughly enjoyed it.
It was a full day.  I am very excited to see what adventures lie ahead.