Serving in Ayacucho: Abbie, Asia, Kate and Morgan
By Karen and Duane Sherer Stoltzfus
Peru SST Co-Directors, 2014-2015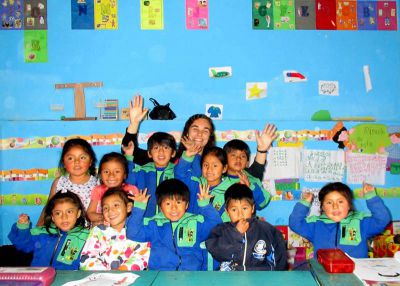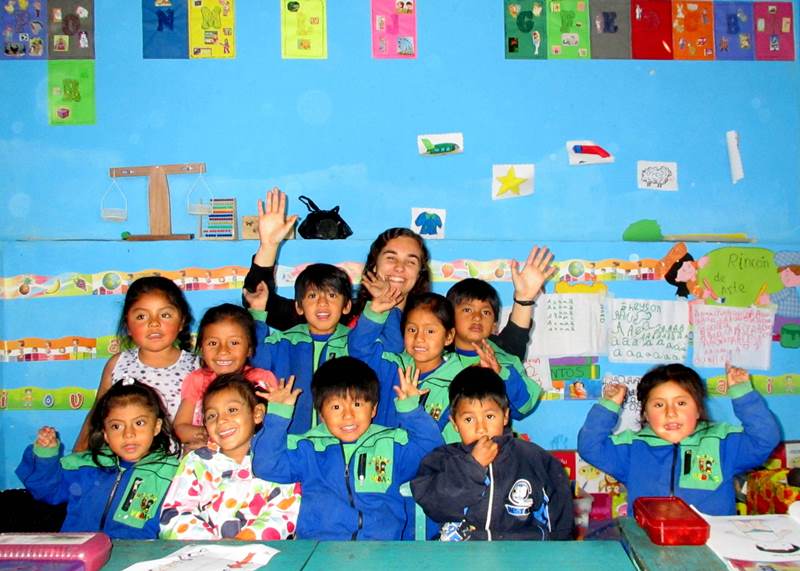 A large sign at the entrance to William Thomson, a private Christian school in Ayacucho, promotes an "alianza estratégica," or strategic alliance, with Goshen College, "la universidad de Indiana."
Abbie is the key to that strategic alliance this semester, teaching English in four or five elementary school classes each day. In one class, we watched her lead children in activities to learn "shoulders," "hands" and "feet."
As a Spanish education major, Abbie is in her element. The school administration would like her to devise a test to measure the English proficiency of students before she leaves. She led us on a tour of the school, which featured a song or two in every class that we visited.
Meanwhile, across town, Morgan is teaching at another private Christian school, Apóstol Pablo. We arrived during a week of festivities celebrating Apóstol Pablo's 10th anniversary; some events definitely put the cool back in school. One day, children brought in their family dogs for a race.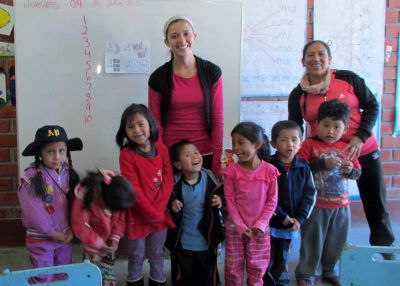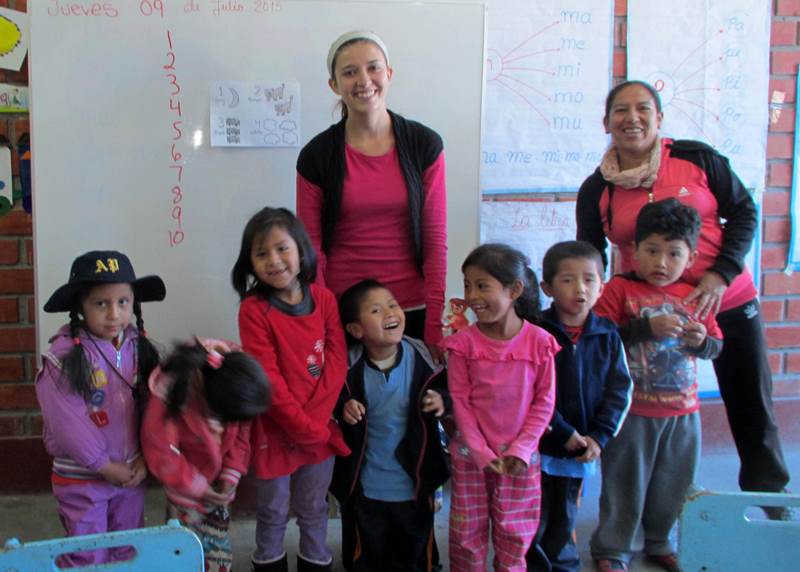 Morgan led a class of 4-and 5-year-olds in a different kind of race: learning colors. She held up objects and pointed to pictures on the wall, as the children called out "brown" or "white" or "pink" or "grey." To keep things interesting, she picked up speed as she went. She also taught them a color song: "Red, orange, yellow, green, blue, purple. These are the colors of the rainbow."
Abbie's host parents, Dionisio Bautista Gómez and Elizabeth Huarcaya Yarasca, have personal connections to the schools: Dionisio serves as administrator of Apóstol Pablo, and Elizabeth of William Thomson. Their children are Luis,  Herbert, Diego, Wendy and Wanda.
Dionisio is also pastor of an Assemblies of God church, where they hold services seven days a week. Dionisio and Elizabeth took us on a 15-minute cab ride and then a 10-minute walk up a steep hill to a property where they hope one day to build the first Mennonite church in Ayacucho.
Abbie and Morgan are neighbors, of the closest kind. Morgan's host mother, Nieves Bautista Gomez, is Dionisio's sister. Nieves and her son, Javier, live in an adjoining house. On the day we had lunch with Dionisio and Elizabeth, Morgan happened by and she was immediately invited to sit down and have trout as well (she declined, having just eaten).
Morgan and Abbie have also been serving one day a week at Hogar Casa Luz, a home for children operated by a network of Assemblies of God churches in the city. They help with homework and simply spend time with the children.
On our first morning in Ayacucho, when we arrived at the Centro de Salud San Juan Bautista, a busy Catholic clinic in Ayacucho, patients were spread along a long hallway, waiting to be seen.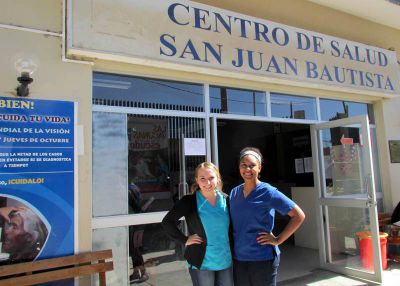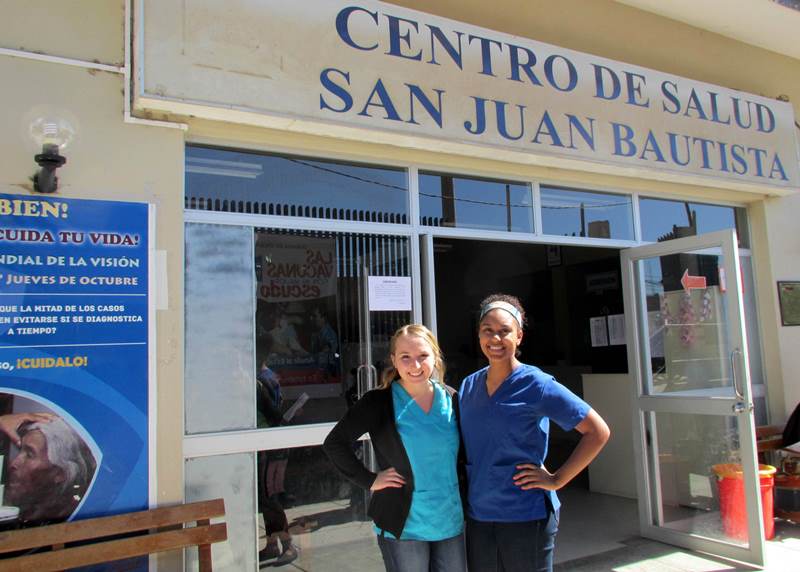 Asia and Kate were serving at the clinic five days a week, rotating among the different offices, including pediatrics, dental care, lab analysis, and emergency room.
During our visit another service opportunity emerged, at the Luz y Vida comedor, which for several years has blended school tutoring and noontime meals for children from impoverished homes on a hillside overlooking the city. A donation courtesy of a former Goshen College student who served here, Gretchen Geyer, led to an initiative.
Asia and Kate, joined by Abbie and Morgan, will head to the market to buy food and other supplies, and then prepare gift baskets. Mabel Santiago Quispe, who has managed the comedor, will serve as their guide in delivering the foodstuffs to 10 or more families in the neighborhood.
Asia and Kate's host mother, Ercilia Gonzales Pincos, would recommend that they include quinoa, the complete protein and Andean super grain, in those food packages. When she invited us to her home for lunch, she served a dessert that she called "Misky Peru" (think Quechua for "Delicious Peru"). Served in a bowl, the dessert, with the texture of an American hot cereal, featured quinoa, milk, sugar and cinnamon. The dish truly lived up to its name.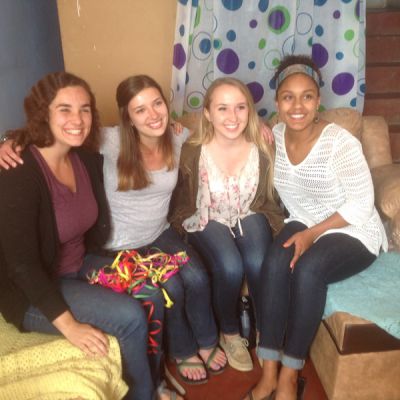 Ercilia said quinoa's local reputation is often that of a common meal — food that elicits a groan from school kids — even as quinoa commands ever more sales abroad. "La gente no la aprecia," she said ("The people don't appreciate it."). Ercilia's dessert, however, could be a stroke of marketing genius. Asia and Kate and Duane all had seconds.
Before we caught the overnight bus back to Lima, we sat in Ayacucho's plaza de armas for an hour or so as the sun went down. It's one of the loveliest plazas we know. People of all ages fill the benches — and on a busy Friday night a young couple may ask to squeeze onto a bench beside an older couple. A clown may suddenly appear and strike up a conversation. Children may chase after pigeons that were cleaning up spilled popcorn.
We toasted Ayacucho with ice cream from one of the dozen shops that ring the plaza (a cone of mango and another a blend of chirimoya and limón). Then we walked toward the bus station, wondering whether Goshen might be able to design this kind of gathering place to complement its dynamic downtown.