15 Students Arrive Safely: Peru SST Officially Under Way
The 15 students who will spend the fall semester on SST in Peru left early and arrived early.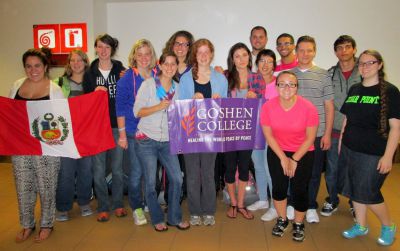 The trip started around 4 a.m. , when they left Goshen by bus to catch a flight from Chicago.  They landed at the Jorge Chávez International Airport in Lima at 9:19 p.m., 16 minutes ahead of their scheduled arrival.
The 15 students moved through customs and immigration in less than an hour and were greeted by SST co-leaders, Duane and Karen Stoltzfus, and Celia Vasquez, the Lima study coordinator.
They boarded a bus for the final leg of the trip, a 45-minute ride to Albergue Miraflores House, the hostel where they will spend the first two nights. Before the bus pulled out, the group joined in three prayers: opening in English, continuing in Spanish and closing with a signed "Amen."
Of the 15 students in the group, eight are majoring in American Sign Language; they'll study Peruvian Sign Language  and live with host families that include at least one deaf person. The other seven students will be studying Spanish.
The SST leaders collected passports, visas and other documents for safekeeping and then passed out emergency contact cards, bottled water, mandarin oranges, sesame and quinoa energy snacks, and Sublime chocolate bars.
Thursday will be devoted to orientation and Friday to exploring downtown Lima.
American Airlines Flight 0917