Emma, Stefan, Derek and Tim: Serving in San Ramon
Emma, Stefan, Tim and Derek are working in San Ramón in the province of Chanchamayo – the entry point to the selva central, Peru's central rain forest. Despite busy schedules of work and studies, they still have found time to enjoy their host families as well as the flora, fauna and warm temperatures of San Ramón, which is located along the Carretera Central (the central highway) that links Lima in the west to the rain forest in the east.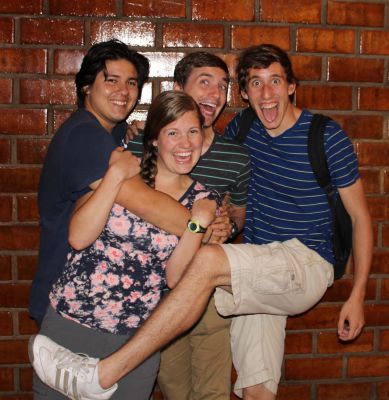 San Ramón, which has about 30,000 residents, is located in the departamento (state) of Junín, on the eastern foothills of the Andes mountain range. At 2,600 feet above sea level, the weather this time of year has been temperate, with warm days and cool, comfortable evenings. Occasional rain keeps the surrounding jungle green. Emma, Stefan, Derek and Tim all have had the opportunity to connect with one another as well as explore San Ramon and the surrounding jungle and have enjoyed the lush vegetation and birds and animal life.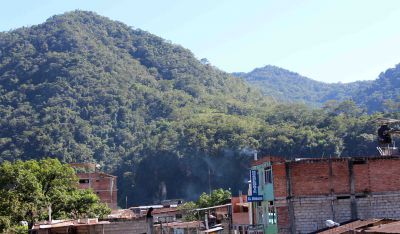 Emma and Stefan live with a large, Italian-Peruvian family that owns and operates Gad Gha Kum Lodge, a beautiful hotel complex just outside San Ramón. Although Emma and Stefan each have host mothers – Patricia and Mary Lou, respectively – they are really part of the extended Del Aguila Gerbi family, whose members live and work together and who are in and out of each other's houses all day. They especially have enjoyed spending time with Rocio, their host aunt who has been a host mother to previous Goshen College students.
Tim host mother is Yesi Borda Soria, a nurse at Clinica Elera, where Tim is doing voluntary service. Tim also lives with a host brother. Meanwhile, Derek lives in the home of Jeny Mez Ramos and her husband, Carlos Huamancayo, and their two children, Lucila and Carlos. Tim and Derek live close to one another and have enjoyed spending time together most afternoons.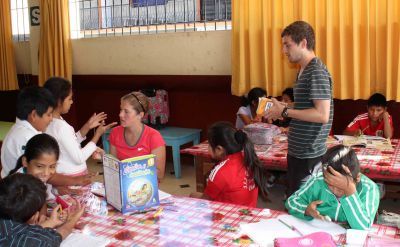 Emma and Stefan take a colectivo (a shared taxi or van) or a moto-taxi into San Ramón each morning. They work at INABIF (Programa Integral Nacional para el Bienestar Familiar), a government-funded program that assists low-income families. Children come to the center before or after school to eat a hot meal, take part in activities and programs and get help with their homework. Senior citizens also come to the INABIF center for meals, and sometimes interact with the children.
Emma and Stefan spend time playing with pre-school children and help elementary and high school students with homework. They have enjoyed getting to know the children, engaging in conversation and playing games. While Emma and Stefan said their assignment can be tiring, they have found it to be very fulfilling.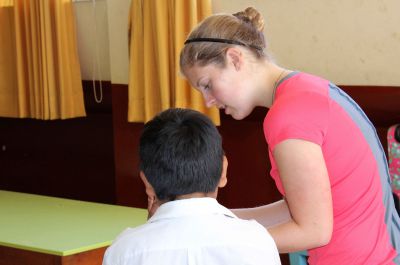 Emma reports that she has thrived on service and developed close bonds with her host mother and the children at INABIF. "We have a routine of upper elementary in the morning teenagers in the afternoon. The days are always long, but there are highlights in every day and the weeks go fast," Emma wrote. "I have become so close with one of the teenagers; that was unexpected for me. We hang out on some weekends, and I am already dreading saying goodbye to her."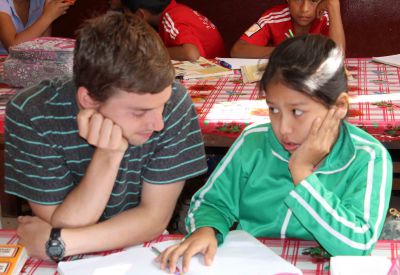 Stefan also has enjoyed service. "I would say my highlight at INABIF has been getting to know the various kids and really becoming friends with them. It is such a cool bond and I love just hanging out with them. Also, the nature here is just out of this world. I still am awestruck by it every day," Stefan wrote.  Asked about his "takeaways" from service, Stefan wrote, "I have been taking away a lot of things, especially different living arrangements, i.e. from our co-workers and the kids. Also, just realizing a lot of the different ways I have been growing on SST thus far. It is a really great feeling."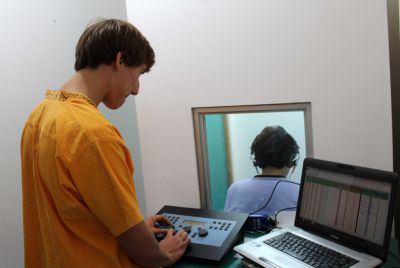 Tim, a pre-med major, walks daily the Clínica Elera and assists the clinic's doctors and nurses with patient care. He observes consultations, takes vital signs and runs routine procedures such as hearing and vision examinations. He has observed surgeries, including an amputation, and many patients getting stitches.
The medical cases often reflect the difficult life that people lead in the rain forest, from wounds suffered while farming and long delayed treatment to tropical diseases that are unknown in more arid parts of the world. The clinic's founder, Dr. Gustavo Elera Arevalo, has to have solid general knowledge to treat the wide variety of health issues that patients bring to his clinic.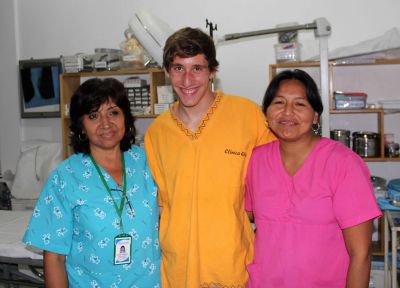 Tim said he enjoys working with the clinic physicians, who he described as knowledgeable and excellent teachers. He also has established good relationships with the clinic's nurses. Asked about his scheduled and work, Tim wrote, "On a typical day I go to the clinic, run, then hang out with Derek or work more. The highlight has been hanging out with Derek or seeing surgeries. The biggest takeaway has been learning how I want to act as a medical provider. The biggest surprise is some of just the small differences between U.S. and Peruvian medical services."
Derek works at the Centro de Educación Especial Basica San Manuelito, which assists students with special needs. He spends time as a physical therapy assistant and helps children to gain strength and flexibility in their limbs with exercises and stretching. He also spends time playing children and giving them snacks.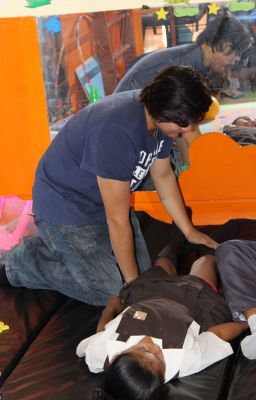 Derek's work is physically and emotionally demanding and takes great patience, especially in assisting children who lag behind peers in their mental and physical development. Many do not respond to simple instructions. Some cannot walk. At times, a child will cry for hours.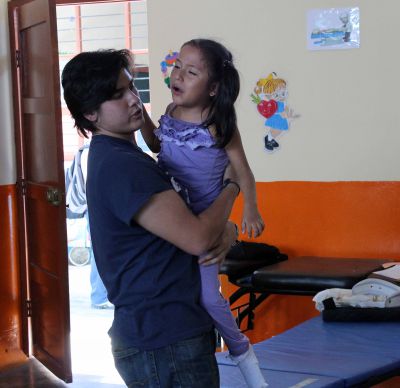 Still, Derek has enjoyed the assignment and especially enjoyed spending time with his host family and the other Goshen students. "An unexpected surprise has been meeting other Americans at my work. It was nice to talk to other people in English," Derek wrote. "My biggest takeaways are how little some of the people here have. There is so much I had taken for granted and now that I don´t have access to them, it opened my eyes. Another takeaway is that even with a strong language barrier, it is still easy and fun to get to know new people."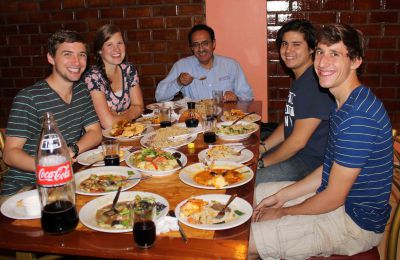 While the students have focused on their respective families and service, they also have had opportunities to have fun time together and have outings. In an email, Stafen described one such adventure during the students' third Saturday in San Ramon: "A great highlight was going on a jungle tour with a group of Peruvians, Tim, Derek, and our tour guide who happens to be a classmate of Emma's mom. She really helped us get in contact with him and it was a full day of fun for a small amount of money. We went to waterfalls and a native tribe and Highland Coffee. It was phenomenal!"