Preparing for service in Peru
After Goshen College students start to speak Spanish, adjust to their host families, learn how to navigate Lima's chaotic bus system and start to enjoy living in Peru, they increasingly ask one question of their Peru Study-Service Term leaders: "What's my service assignment and where will it be?"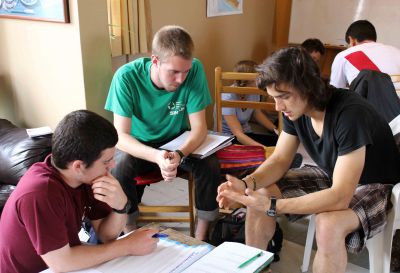 It's a natural question because service is an essential component of SST and as important as classroom learning. Service also can be the most challenging and rewarding part of the SST experience. Students get the opportunity to spend six week working for a worthwhile organization and living with a new host family – an experience that can transform lives and lead to new career paths. Just ask any of the more than 7,500 students who have learned and served in 24 countries, including Peru, on SST since 1968.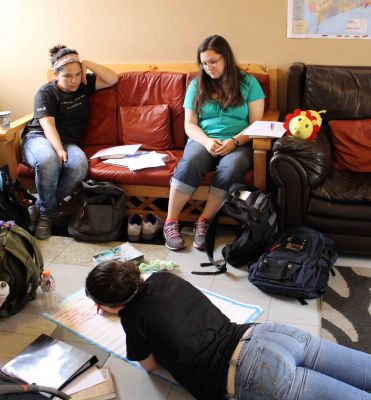 SST leaders must sift through many variables in order to assign service placements and locations. The service placement is not an internship, but as much as possible should mesh with each student's skills, experiences and interests. Some students simply ask for a placement where they will be useful, while others put a premium on the kind of work or where they will live – city or small town, mountains, coast or jungle. Some ask to be near a friend or two. But no matter where they will be sent, students understand that in some way, they will be pushed out of their comfort zones.
While Peru SST Co-Directors Richard R. Aguirre and Judy Weaver met with students to determine their preferences, Service Coordinator Willy Villavicencio was busy contacting service organizations and host families in numerous cities, setting it all up.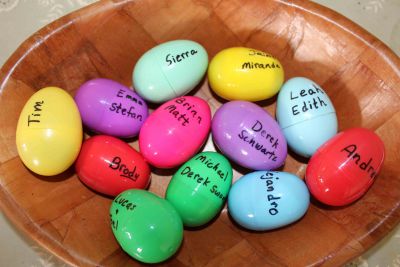 Finally, students were invited into a second-story meeting room at la Catedral del Buen Pastor (where classes are held). Directors Judy and Richard had earlier hidden plastic Easter eggs in the room. Inside each egg: the student's service assignment location and companions.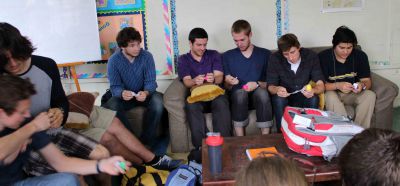 It didn't take long for the students to sweep through the room and find all the precious Easter eggs. Afterward, students cracked open the plastic eggs and read their assignments, service locations and companions. They then shared the information with their classmates and found their service locations on a large map.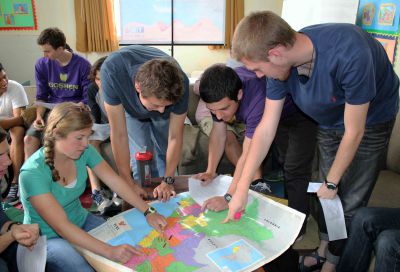 Before they left Lima, the students came together for several sessions of orientation. They thought about their goals and expectations and discussed how they would handle problems such as too much or not enough work, illness, boredom and homesickness. They expressed the desire to immerse themselves in the experience and get the most out of what may be a once-in-a-lifetime opportunity for some members of the group. For others, it may be the beginning of many future travels and immersion experiences.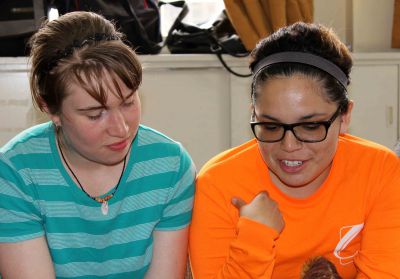 We recalled the advice of one of our speakers, Dr. Townsend Cooper, a medical missionary. Dr. Cooper said that to be as helpful as possible in our short six weeks of service, we should keep open eyes and open hearts, pay attention and evaluate. We focus on accompaniment, not accomplishment, as our best gift to our hosts. In the end, we know that we are here in Peru to learn and that we will gain much more than we can ever hope to give.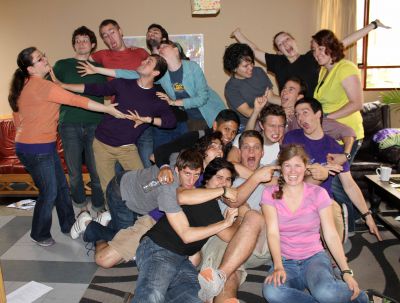 After the final orientation, the students gave each other hugs and said goodbye to each other. The next day they would be heading out in groups of two to four students, to the cities of Ayacucho, Chiclayo, Tarma, San Ramón, La Merced, Oxapampa and a tiny jungle village named San Miguel.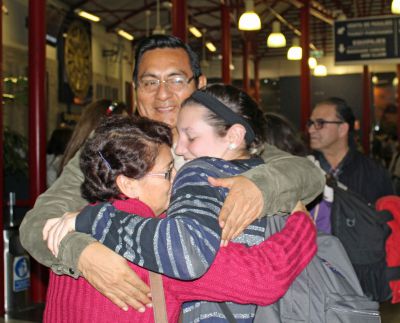 The first group left the next morning. They came with their Lima host families to the bus station, where there were more hugs and a few tears. The rest left in the evening, on overnight buses. Although it was hard to say goodbye to the Lima host families, the students said they were ready to go and looking forward to the next part of the adventure.