Fútbol just for the fun of it
Goshen College students spent their second Saturday in Lima playing soccer and volleyball with host family members and their friends. The spirited play took place at the municipal sports complex in the San Isidro district of Lima on a warm and gray morning.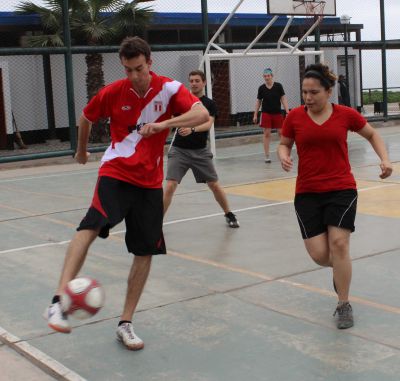 The students  loved it, especially the opportunity to play "fulbito," a scaled down version of soccer. Although fútbol, or soccer, is Peru's national sport, fulbito is played more frequently, especially among adults because it can be played on a smaller field of artificial grass, concrete, asphalt or even dirt. There are six players per side, plus a goalie and each half can last as little as 15 minutes, depending how long the players have access to the court.
After the game, Goshen students were so enthusiastic about fulbito that they asked for the opportunity to play another game. So on their last full Saturday in Lima, Peru SST Study Coordinator Celia Vasquez reserved a concrete court in a park on the malecon – a string of parks perched on the cliffs above the Pacific Ocean – in the Miraflores district.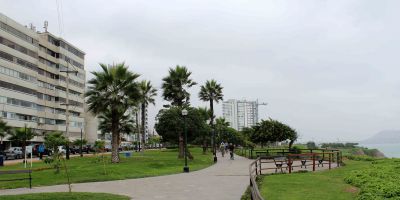 Peru SST Co-Directors Judy Weaver and Richard R. Aguirre were on hand to cheer for the students and their Peruvian friends and to take photos. And the students had a great time playing fútbol, just for the fun of it.