Sports fun with host families
Goshen College students spent their second Saturday in Lima playing soccer and volleyball with host family members and their friends. The spirited play took place at the municipal sports complex in the San Isidro district of Lima on a warm and gray morning.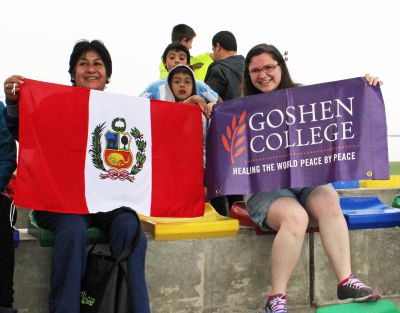 After picking teams, the students played three matches of "fulbito," a scaled down version of soccer. Although fútbol, or soccer, is Peru's national sport, fulbito is played more frequently, especially among children and adults because it can be played on a smaller field and with fewer players. A Peruvian invention, fulbito is played on a basketball or volleyball court or an artificial grass, concrete, asphalt or even dirt field, called a "cancha" (court). There are six players per side, plus a goalie. The length of games can vary, but each half can last as little as 15 minutes, depending how long the players have access to the court. And although there is usually a referee, the emphasis is on fun, teamwork, and plenty of scoring.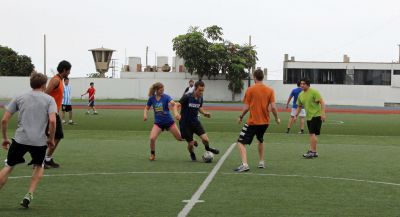 Goshen's game was played on a beautiful artificial-grass field and featured exciting action and close competition. Host parents and children watched intently and cheered with enthusiasm. Lima Study Coordinator Celia Vasquez, who teaches English in two universities, invited some of her students to improve their skills by attending the game and interviewing GC students.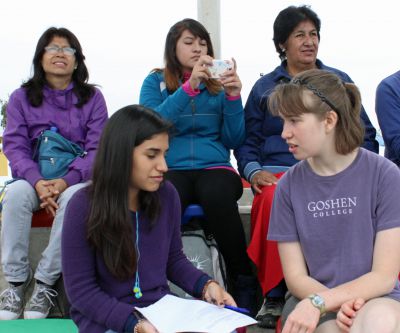 Still, the focus remained on the friendly competition. After two games, the winners played a championship game between teams roughly divided along national lines – Peru vs. the United States. Although both teams took advantage of available scoring opportunities and made great defensive plays, the Goshen students prevailed.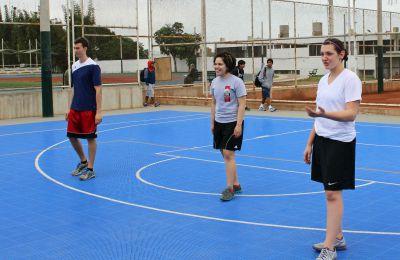 Afterward, everyone headed over to a volleyball court, for more competition among mixed teams – men and women, Peruvians and Americans. A spirit of fun and friendship prevailed. The morning ended with fruit drinks and group photos.