Mother's Day in Peru is a big family day; "like Christmas," according to our Lima friends. Today stores were closed and the parks and restaurants were full of people. You could see families out for a stroll, dads barbecuing on patios and kids running around. The Peru SSTers spent the day with their host families, sharing an experience of family life and love.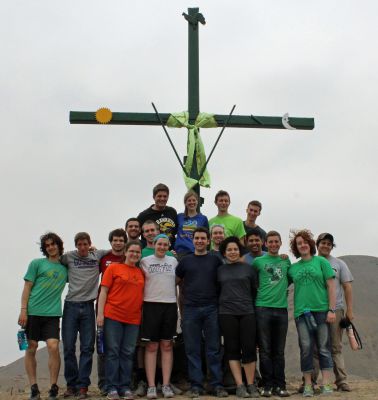 Peruvians have been planning for Mother's Day for a couple of weeks. There have been huge Mother's Day sales, of course, with flowers, chocolates and cards on display. A recent article in Lima's biggest newspaper included quotes from Peru's top chefs about what they planned to cook for their mothers on Mother's Day. Two Peruvian specialties – ceviche and anticuchos – were popular answers. (Ceviche is pieces of raw fish cured in lime juice, and anticuchos are beef-heart kabobs grilled over hot coals). One chef said he was going to grill all kinds of meats, including an entire beef tongue!
So Happy Mother's Day and Feliz Día de la Madre to all the Peru SST moms back in the States – even if you didn't get any raw fish or beef tongue.
– By Judy Weaver, mother of Richard Enrique and Ana Maria