Jackson and Neal: Serving in La Merced
Neal and Jackson are living just outside the town of La Merced in the Junín province of Peru. La Merced, which has about 50,000 residents, is the provincial capital of the Chanchamayo region and is blessed with warm weather, abundant rainfall, lush vegetation, waterfalls and excellent agricultural production. On the eight-hour bus ride from Lima, one passes through Peru's three distinct regions – coast, mountains and jungle. La Merced is considered part of the central rain forest and is located on the eastern slopes of the Andes Mountains, about 2,000 feet above sea level.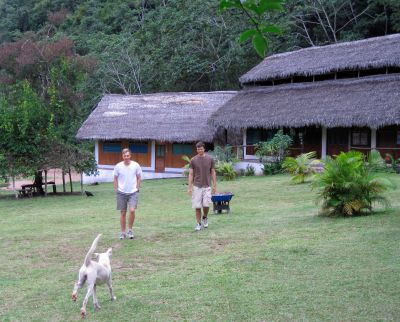 Neal and Jackson are serving in a camp that belongs to the Unión Bíblica, an evangelical church. The camp, named Kimo ("happiness" in Asháninka, the local indigenous tongue), is a home for boys who either have been abandoned by their parents, or whose families are unable to provide for them. The ministry, called Programa Girasoles (Sunflowers), began in 1987 as work with Lima street children out of a van. It has grown to seven homes for abandoned children throughout Peru. Each home has room for up to 40 children and all are funded by donations.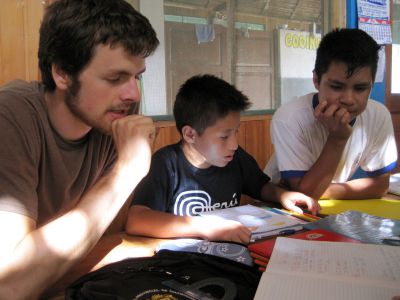 Kimo is a beautiful jungle property of 145 hectares (358 acres). In addition to the home for boys, the property is used as a retreat center for the Unión Bíblica and has hiking paths and 14 waterfalls. To reach the camp from La Merced, travelers must cross the Chanchamayo River in a gondola on a cable. The river is high and fast moving this time of year. The Kimo boys make the crossing twice a day to attend school in La Merced.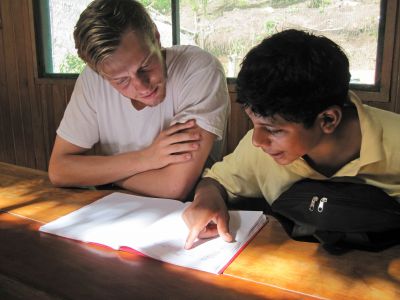 Jackson and Neal accompany the boys to school often to assist in classrooms. They also do chores around the grounds and help keep the children busy with soccer, chess and other games. They eat with the boys, help them with homework, break up fights and spend evenings with them. In general, Neal and Jackson give affection and serve as role models to children who have had scant affection and few positive role models in their lives.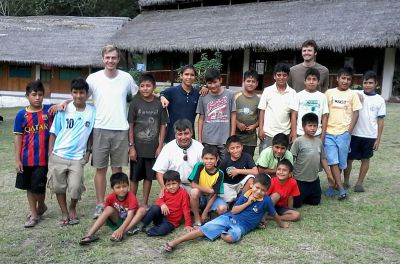 Both Jackson and Neal like to keep busy; in fact, they asked Kimo Director Henry Viguria for more work. However,  their most powerful impact is simply the time they spend with the boys. It is challenging work, because they can't go to a separate home at the end of the workday and because every day is different. But Jackson and Neal are up to the challenge. The boys clearly appreciate their gifts of music (Neal), math (Jackson) and soccer (both). Both these two friends bring calm demeanors, common sense and humor to the task of caring for the boys of Kimo.