Natalie and Gina: Serving in Tarma
Gina and Natalie are volunteering in Tarma, a delightful city of about 60,000 residents located in a fertile valley about 3,053 meters, or 10,016 feet, above sea level in the Andes mountain range. Tarma was founded in 1538 in the departamento (state) of Junín, between the central coast and the central Amazon rain forest. Because of its spring-like weather and natural beauty, the city was nicknamed the "Pearl of the Andes" by Antonio Raimondi, an Italian-born scientist and university professor, who traveled widely through Peru from 1850 to 1875 studying the nation's geography, geology, botany, zoology, ethnography, and archaeology. Tarma has chilly nights and sunny days for enjoying the beautiful scenery and charming, narrow streets.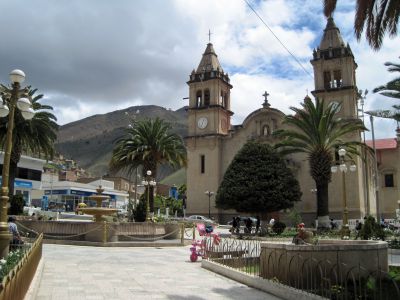 Tarma also is referred to as the City of Flowers; flowers grown here are shipped to Lima and elsewhere and also are used during huge religious observances. Natalie and Gina are a little disappointed that they will be back in the United States by Holy Week, when residents make elaborate designs from flower petals on the streets, carpeting parts of the city with color. Many tourists visit Tarma in the week before Easter. They shower flower petals on the images of Jesus Christ and Mary, which are carried through the streets on illuminated litters.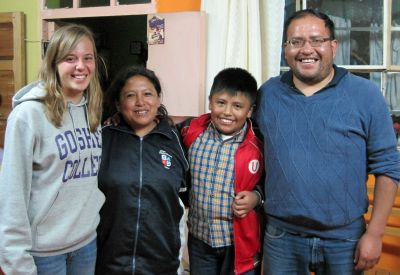 Gina lives with Carmen Bañon, one of the Fe y Alegría teachers, and her husband, Juan Baldoseda Roca, who is a teacher at Colegio Stephen Hawking. Gina's host family includes two young host brothers and a grandmother. Both Gina and Natalie are happy to have rooms to themselves on service, since they shared rooms with host siblings in Lima.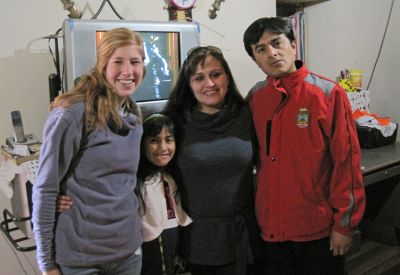 Natalie's host parents, Deyadira (or Yadira) and Abraham Bañon are a nurse and municipal official, respectively, who have hosted a number of Goshen students. They live with their two children and Yadira's mother in a second-floor apartment. They are a warm and welcoming family who enjoy conversation and watching sports and game shows.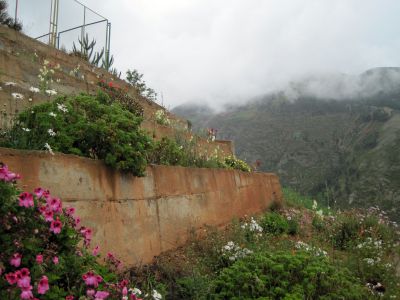 Natialie and Gina are working at the Fe y Alegría (Faith and Joy) school #67. The school, part of a network of more than 2,000 such schools across Central and South America, provides quality education for students from poor families. Fe y Alegria schools are established and run by members of Catholic orders and partially funded by the government. Tarma's well-run school is fairly new and situated on a hillside overlooking the city.
The Goshen students report to Sister Patricia Day, the school's sub-director (vice principal). They've enjoyed her energy, positive attitude and Australian-accented Spanish. Whenever Sister Patricia enters a classroom, there is a deafening chorus of, "GOOD MORNING, SISTER PATRICIA!!" in English. Sister Patricia and Sister Charo Zurita, the school's director (or principal), belong to the Sisters of Saint Joseph, a Catholic order dedicated to education.
Every morning Natalie and Gina make their way up the winding, muddy road to the school. If they are lucky, they join a colectivo – a joint taxi ride with some of the students. If they are not so lucky, they miss the car and walk up the hill.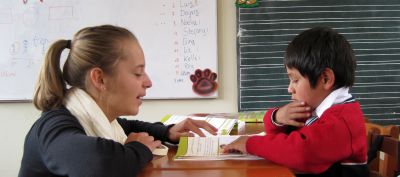 Gina spends her days with a squirrelly group of first-graders, doing her best to help teacher Lila instruct them and keep order. Natalie is just down the hall in a third-grade classroom. She assists teacher Cintya and gives one-on-one attention to two special needs students.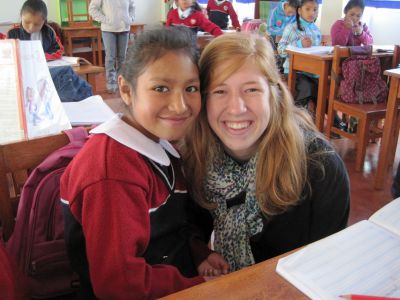 Gina and Natalie say their work can be demanding and tiring, but it is also rewarding to see the progress the children are making. They know some of the children come from difficult home circumstances. The students love Natalie's ready smile and Gina's calm, kind demeanor. They will be sorely missed when they have to go.