Caleb and Maria: Serving in San Ramon
Maria and Caleb are working in San Ramón in the province of Chanchamayo – the entry point to the selva central, Peru's central rain forest. In spite of busy work schedules, the students have found time to enjoy their host families as well as the flora, fauna and warm temperatures of San Ramón, which is located along the Carretera Central (the central highway) that links Lima in the west to the rain forest in the east.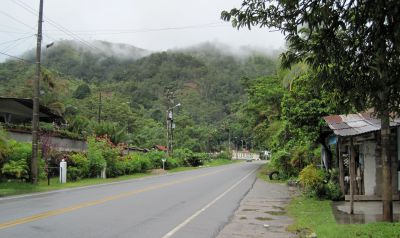 San Ramón, which has about 30,000 residents, is located in the departamento (state) of Junín, on the eastern foothills of the Andes mountain range. At 2,600 feet above sea level, the weather this time of year has been temperate, with warm days and cool, comfortable evenings. It rains almost every day, which keeps the surrounding jungle lush and green. Caleb and Maria like to take a daily walk along a jungle stream to a waterfall. They've spotted bright blue butterflies, toucans and once – slithering across their path – a sizable snake. They are grateful that the mosquito population is low this time of year.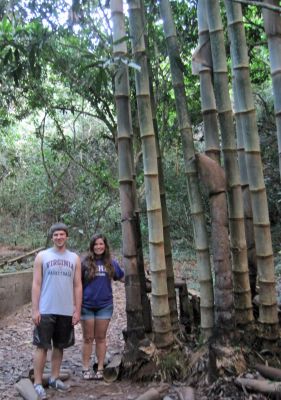 Maria and Caleb live with a large, Italian-Peruvian family that owns and operates Gad Gha Kum Lodge, a beautiful hotel and camping complex just outside San Ramón. Although Maria and Caleb each have host mothers – Marilu and Rocio, respectively – they are really part of the extended Del Aguila Gerbi family, whose members live and work together and who are in and out of each other's houses all day.
Caleb lives in one of the guest cabins, and Maria was surprised to find herself in a small suite of rooms attached to her host mother's house. "It was not what I expected," she said. At first she felt very isolated, but she soon learned that she was welcome to spend time in Rocio's house – where she and Caleb eat their meals – talking with whichever family members are around.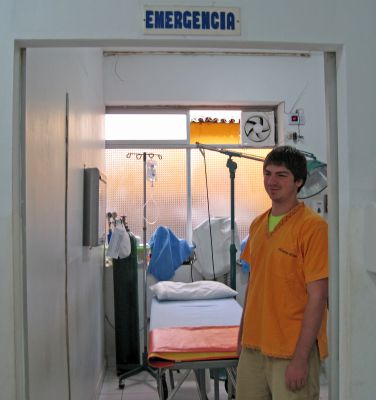 Caleb and Maria take a colectivo (shared taxi or van) or a moto-taxi into San Ramón each morning. Caleb, a pre-med major, makes his way to the Clínica Elera. He assists the clinic's doctors and nurses with patient care. He observes consultations, takes vital signs and runs routine procedures such as eye exams. He has helped to set a broken wrist and assisted as a doctor stitched up a large leg wound. He was looking forward to observing a hernia surgery that was scheduled for the next week.
The medical cases often reflect the difficult life that people lead in the rain forest, from wounds suffered while farming and long delayed treatment to tropical diseases that are unknown in more arid parts of the world. The clinic's founder, Dr. Gustavo Elera Arevalo, has to have solid general knowledge to treat the wide variety of health issues that patients bring to his clinic. He told us that he is currently working on a certificate in toxicology, since so many area residents work with farming toxins.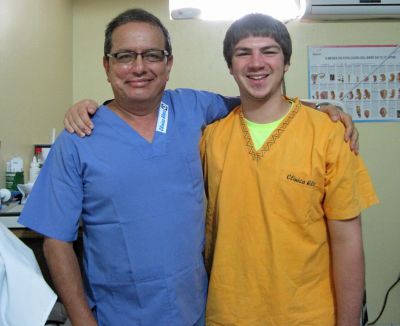 Caleb likes working with Dr. Elera, who is a gifted teacher. Caleb has made good friends with the clinic's team of nurses, and is much appreciated by all the staff for his gentle good humor and compassionate care of patients.
Maria works at INABIF (Programa Integral Nacional para el Bienestar Familiar), a government-funded program that assists low-income families. She spends her days with children who come to the center before or after school to eat a hot meal, take part in activities and programs and get help with their homework. Senior citizens also come to the INABIF center for meals, and Maria thinks it's great that the children get to interact with the grandmas and grandpas.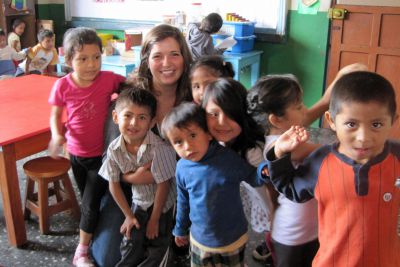 Maria sometimes works in the pre-school classroom, but more often helps with the elementary and high school students. She keeps the children busy and happy with games, homework and conversation. The girls love to brush and braid her long hair. One day she drew an elaborate design for the first page of a student's notebook, and now almost every child wants a similar drawing.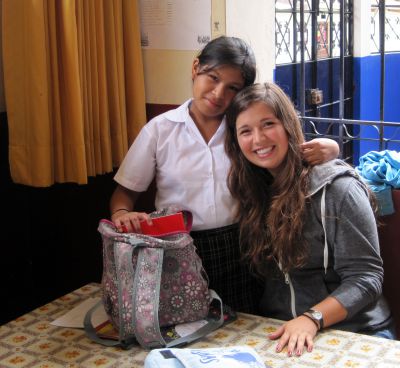 Maria comes home tired and has learned the value of a short nap. It's not easy to have children climbing all over you for eight hours! But this future social worker loves the work so much she wishes she could return some day. Many of the children have difficult home lives. The kids love Maria's kindness, sense of humor and ability to give them her full attention.