Jonathan, Thomas, Gretchen, Jake, Aimee: Serving in Ayacucho
The five students in Ayacucho are doing well and have some great experiences to report. We (Peru SST Co-Directors Richard R. Aguirre and Judy Weaver) visited them on a couple of sunny days, interspersed with refreshing nighttime rain – typical weather for this time of year in the Andes.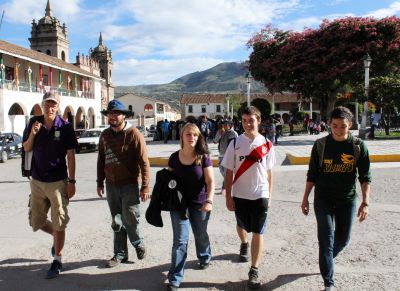 Ayacucho occupies a scenic valley about 2,761 meters, or 9,058 feet, above sea level in the Andes mountain range. The city of 151,000 people is known for its colonial architecture, many Catholic churches and religious observances. In their free time, the Goshen students were enjoying the celebrations of Carnaval, sort of a weeks-long Mardi Gras.
Spanish conquistador Francisco Pizarro founded Ayacucho in 1540 as San Juan de la Frontera de Huamanga and intended it to be a bulwark against a possible Inca rebellion. The city is celebrated throughout South America because of the critical battle for independence that was fought in 1824 in the nearby highlands of Quinua, which later became known as Ayacucho or "dead corner" in the Quechua language. General Antonio José de Sucre, who had been appointed by South American liberator Simón Bolivar, commanded troops that defeated Royalist forces, setting the stage for independence of Peru and the rest of South America. In honor of the victory, Bolivar changed the city's name to Ayacucho. A statue of Sucre in Ayacucho's main plaza commemorates the battle and its significance for the Americas.
Bloodshed and conflict returned to Ayacucho 156 years later with the advent of the violent revolutionary movement known as the Sendero Luminoso (Shining Path). Abimael Guzmán Reynoso, a philosophy professor at the San Cristóbal of Huamanga National University in Ayacucho, founded the Shining Path and launched a conflict that spread throughout the country. More than 70,000 Peruvians died in the 1980s and 1990s. Ayacucho was the departamento (state) that suffered the greatest number of killings – by the Shining Path as well as the military and police.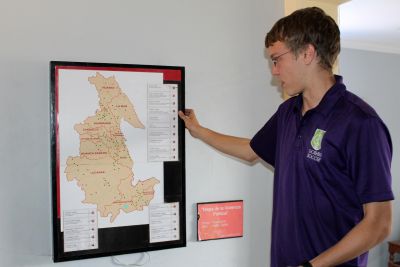 Thomas has learned a great deal about that sorrowful era in his work assignment at the Museo de la Memoria, a volunteer-run NGO that relates the stories of the victims and the survivors, "so this never happens again." Thomas began by taking English-speaking visitors through the small museum. Gradually his work grew to include helping with English translation, running the small gift shop and doing tours in Spanish as well. One day he helped jerry-rig a light for an area of the museum that had lost electricity. The museum is run by members of the association that created it – a group of highlanders who lost family members to the violence of the war. Since giving time to the museum is a significant sacrifice for them, they are grateful for Thomas' competent help and passion for history.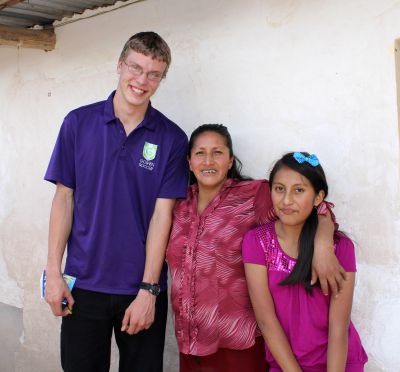 Thomas lives a bone-jarring moto-taxi-ride away, on a dirt lane on the edge of town. His host family is Pastor Vicente Pianto, Maria Luz Ludeña and their daughter, Reina. He has a large room to himself, with chickens and cuys (guinea pigs) running around just outside. At night he likes to stand in the dirt courtyard and look up at the stars shining brightly in the clear mountain air.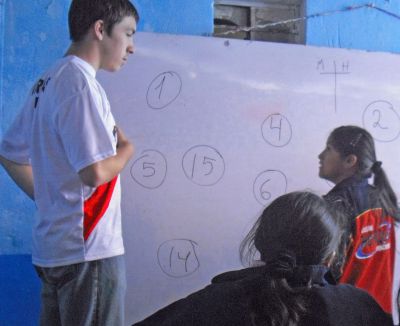 Jake divides his time between two small, Christian schools: Institución Educativa Privada William Thomson, a primary school; and Institución Educativa Inicial Privada Vidas, a preschool. Jake assists in classes, models English pronunciation and helps teachers in whatever way is needed. In the two weeks before school started, he helped paint classrooms. Many of the students come from the low-income neighborhoods around the schools. Teachers and students alike appreciate Jake's calm demeanor and ability to size up what's going on and jump in and help.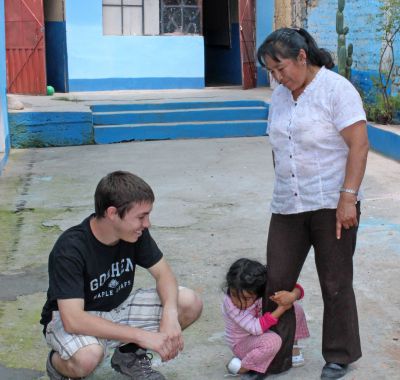 Jake lives with the large and loving family of Elizabeth Huarcaya Yarasca and Pastor Dionicio Bautista Gomez. They have five children, ranging in age from 3 to 20 years old. Jake said that at times he feels overwhelmed with all the people in the tiny house – especially since there are often other visitors, relatives and kids around – but no one minds if he takes a little time apart to regroup.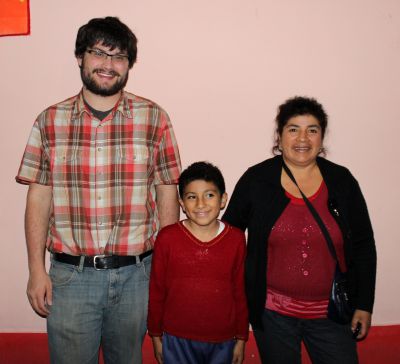 He can also spend time in the company of Jonathan, who lives next door with Pastor Dionicio's sister, Nieves Bautista Gomez, and her son, Javier. Jonathan's house has a nice rooftop space for reading and enjoying the view of the nearby hills. However, the rooftop also includes Javier's irascible dog, so Jonathan said he is not always completely comfortable to go up there alone.
Jonathan's first work assignment was to till and plant a small, urban garden. The garden is the labor of love of Jonathan's supervisor, Raquel Yupanqui Quicaña. The garden, squeezed between buildings on three levels, provides fresh fruit and vegetables for Raquel and the people she works with and ministers to. Raquel and her husband, Pastor Máximo Candia Castillo, serve the people of their area with a youth ministry and two small clinics – one in Ayacucho and one in nearby Quinua.
Jonathan says that working the garden helped with his initial transition to Ayacucho – it was a green space where he felt at home and enjoyed the stress-relieving effects of hard, physical work. Once the garden was planted and needed only an hour or so of maintenance per day, Jonathan began to help Raquel and Max with their health care work. He has traveled to Quinua (about an hour away) several times for tasks including building beds for elderly people who were sleeping on dirt floors and reroofing and painting the clinic. He has also supported international health workers who came to conduct a health campaign in Ayacucho.
Gretchen is working in the Comedor Luz y Vida, a nutrition program for children. She spends her days chopping onions and stirring pots and helping to serve meals to the kids who arrive around 1 p.m. for the biggest meal of the day. Without the comedor, some of the children would not be able to remain with their families, who cannot provide enough food for them. The older children take turns working on a farm owned by the comedor. The day we visited a group a group was at the farm digging potatoes.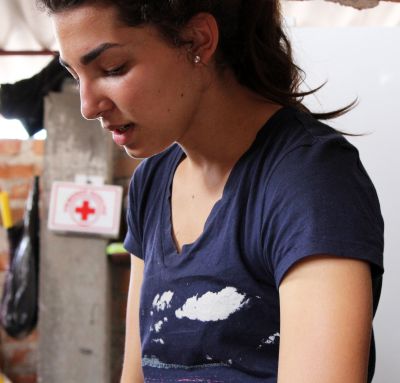 The comedor is run by a church group on a shoestring budget, but it makes a huge impact. That day, about 20 children came. They laughed, teased, played and pitched in with serving and washing the dishes. Gretchen taught them to sing "Jesus Loves Me" in English. We were touched to see one little boy of about nine who fed and cared for his baby sister with extraordinary tenderness. Gretchen described another girl who arrives with her basket of wares – she sells snacks on the street – and her four younger siblings in tow. Volunteers come and go as they are able for the comedor, which is directed by pastor Romulo Santiago Leiva with much help from his daughter Mable. Pastor Romulo was deeply grateful for Gretchen's positive attitude and hard work. The children obviously loved interacting with her.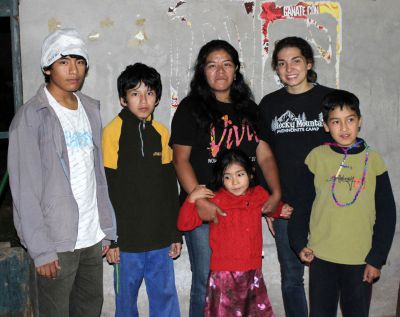 Gretchen lives with a single mother, Marianela Villantoy Claros, and her four children (ages 7 to 15) and two big dogs. She loves having a room to herself and a safe area nearby where she can run. When she gets tired of ramen, which is frequently the family's supper, she cooks herself some pasta. She rides a bus to work every day. She and Thomas run into each other fairly often, since he passes her workplace on his way to and from the museum where he works.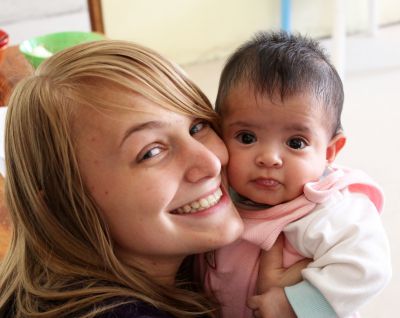 Aimee spends her days in the Hogar Casa Luz, a small orphanage. Casa Luz is another ministry of Pastor Romulo's church. Aimee has been assigned to care for the youngest residents, in the baby and toddler room. She said she had never changed a diaper before working at Casa Luz. Now she is an expert diaper-changer, bottle-feeder, lullaby-singer and negotiator in disputes over toys. Her patience and good parenting skills make her a wonderful caregiver for her little charges. Usually Aimee works with one other volunteer to care for six babies and toddlers. Occasionally she must handle the whole group by herself for short periods. All of the babies are in the process of adoption.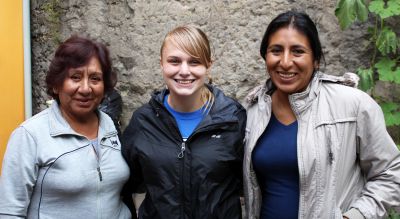 Aimee lives in the home of Luz Ayala Gonzales, her one-year-old son and mother, Ercilia Gonzales Pincos. She has a large room to herself. She enjoys the family's sunny courtyard and gets a kick out of the family's talking parrot. Aimee counts herself lucky, since she is the only one of the Ayacucho students who gets to bathe with warm water; her host mothers showed her how to warm up her bath water on the kitchen stove!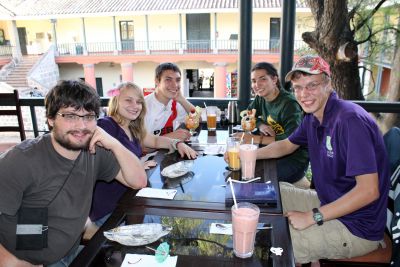 We asked the other students their technique for showering in cold water. Jake's sensible answer was, "One body part at a time!" This and other SST survival tips were shared when we gathered all five Ayacuchans together for an afternoon coffee and dessert treats. We were happy to see that they are managing challenges, learning a great deal, having an impact in their work and enjoying new Peruvian friends of all ages.