Carnival in Ayacucho: People, parades and powder
This semester, five students in the Peru SST program are providing service in Ayacucho, a city of about 151,000 in the south-central Andes of the country. Ayacucho is famous for its 33 Catholic churches, which are said to represent one for each year of Jesus' life.
Because of its substantial Catholic population, Ayacucho has large religious celebrations, most importantly during Semana Santa (Holy Week of Easter). No public celebration in the city can compare to Semana Santa, which draws tens of thousands of visitors from throughout the world. Still, Ayacucho's Carnaval (Carnival) celebration also has many fans, including Goshen's students.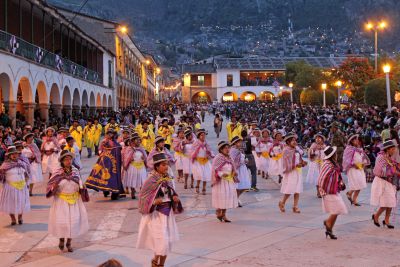 This year, Aimee, Gretchen, Jake, Jonathan and Thomas and Peru SST Co-Directors Richard R. Aguirre and Judy Weaver got a chance to experience Carnaval, a pre-Lenten celebration similar to Mardi Gras in New Orleans. Students watched colorful parades and participated in two other traditions – sprinkling water and talcum powder on other revelers.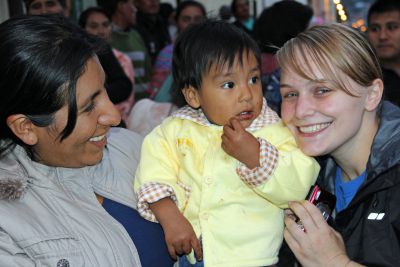 Parades were the highlight of carnaval this year – as always. Residents of Ayacucho and the surrounding area form large groups (known as comparsas) of dancers as well as musicians, who play guitars, flutes, accordions and drums. As many as 250 group members develop and practice unique songs and coordinated dance steps. They then put on traditional Andean costumes and parade around town, eventually ending up in the Plaza de Armas, where they are greeted by cheering crowds. Also drawing huge crowds on the final day of the carnival is the entry into the main plaza of the Ño Carnavalon, a large effigy said to represent the spirit of the carnival.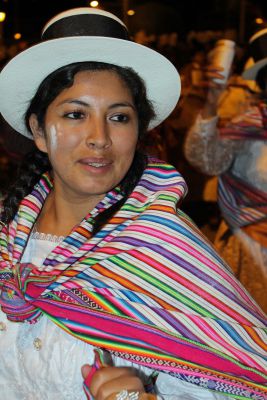 The Ayacucho carnival has been declared part of the country's cultural heritage by Peru's National Institute of Culture because of its originality and vivid representation of Andean creativity. An estimated 15,000 domestic and foreign tourists attended this year's festivities, which ran from March 1-5.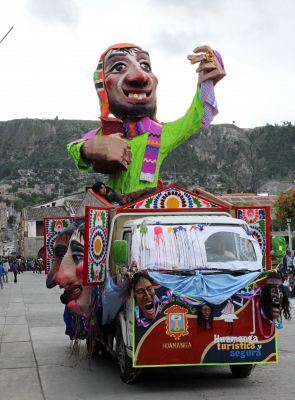 This blog posts includes some images from this year's colorful and festive Ayacucho Carnaval.