We mourn the death of Father Jeffrey L. Klaiber
Less than two weeks after Goshen College students departed for their service assignments, we received the heartbreaking news that Father Jeffrey L. Klaiber, a gifted historian and a great friend of the Peru Study-Service Term program, abruptly died (March 4) due to complications from heart surgery. He was 71, but had the energy, wit and intellectual curiosity of a much younger person.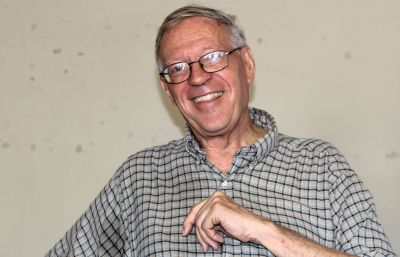 A Jesuit priest, Jeff lived in Peru for 38 years and was the country's leading expert on the Catholic Church and the intersection of faith and politics. He also was an authority on Liberation Theology, the Jesuit presence in Latin America and Peruvian politics. Over the past year, Jeff had provided keen insights to Peruvian journalists about Pope Francis (also a Jesuit) as well as recent developments in the Catholic Church.
Goshen students consistently rated Jeff as one of the top lecturers in the Peru SST program and this year was no exception. On Jan. 16, Jeff spoke to Goshen students about "Latin America, the Church and Politics." He also discussed why he became a priest, his opinion of Pope Francis and outlined major issues facing the Catholic Church, including homosexuality, birth control and the role of women in the church.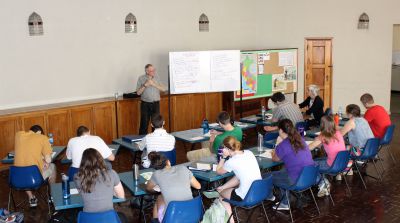 While Jeff answered all of the questions with clarity and candor, students said his compassion and answers about his personal life choices had the greatest impact. For example, Jeff explained that he didn't make a rational choice to become a priest. "I felt called by God, which isn't rational. I was drawn by the vision of becoming am intellectual and a missionary." When asked why he chose to serve in Peru, Jeff said, "I was zapped by grace and wanted to be of service and the Chicago province I was part of sent people to Peru."
Jeff liked to start his lectures by joking that he specialized in two non-controversial subjects – religion and politics. He would spread out an outline of his presentation – hand-written on large sheets of paper – and then would spend about 90 minutes sharing his knowledge and explaining why it mattered. While he could lecture for long periods without interruption, Jeff liked nothing better than engaging with listeners, especially students. So great was his passion to teach history that Jeff already had accepted the invitation to speak to the summer unit in May. His passing leaves a vacancy that will be impossible to fill.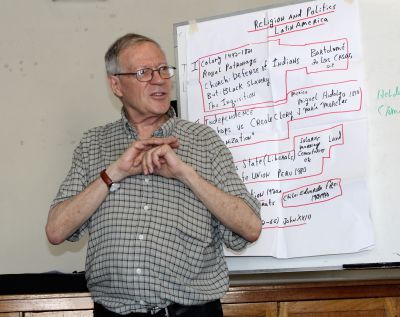 Born on Jan. 11, 1943, in Indianapolis, Indiana, Jeff entered the Society of Jesus on Sept. 1, 1961, at Milford, Ohio. He came to Peru in 1963 as a young Jesuit in formation and was ordained on June 9, 1974, in Chicago.
Early in his career, Jeff attended Marquette University for a year and studied classics at the Institute de Humanidades (at the Catholic University) in Lima, Peru. He earned a bachelor's degree in classics from Loyola University Chicago in 1967 and a master's degree in history, also from Loyola, in 1968. Afterward, he studied theology at Bellarmine College in North Aurora, Ill. for two years. Jeff earned a Ph.D. in history from Catholic University in 1976 – the same year he returned to Peru to stay.
From 1976 until his death, Jeff was a professor of history at the Pontifical Catholic University of Peru. He also was a history professor at Antonio Ruiz de Montoya University in Lima and served as a visiting professor at Georgetown University (1990-1991), St. Joseph's University, Philadelphia (2000-2001) and Boston College (2006-2008). He authored four books about religion and politics. Jeff also did pastoral work in Lima, including celebrating Mass on weekends.
While Jeff will be greatly missed, we draw comfort in knowing that he did what he loved throughout his career, serving God, the Catholic Church and thousands of students who benefitted from his knowledge. Indeed, Jeff provided the most powerful testimony about his life upon the completion of 50 years as a Jesuit, three years ago. At that time Jeff wrote, "I give thanks to God that he has called me to be a Jesuit, a missionary, and a historian. I have had difficult moments along the road, but what has always gotten me through those moments was the deep sense that I am doing what I am supposed to be doing."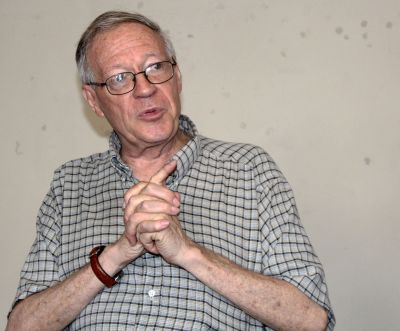 Note: The photos accompanying this post were taken by Peru SST Co-Director Richard R. Aguirre on Jan. 16, 2014 during Father Klaiber's final lecture to Goshen College students, on "Latin America, the Church and Politics."