Inside the Artist's Studio: A Visit with Victor Delfin
Why does an artist choose one medium over another? How does an artist stay motivated enough to create beautiful art year after year? Why would an artist get involved in politics? And why would an octogenarian artist continue to work 10- or 12-hour days instead of enjoying a carefree retirement?
Goshen College students got answers to those and other questions while gaining insights into the creative process during a visit to the home and art studio of Victor Delfin, Peru's leading painter and sculptor.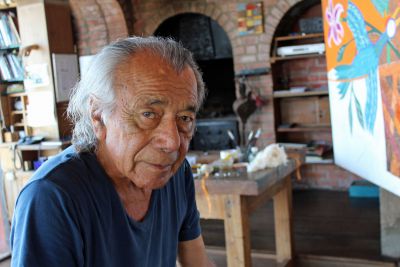 Delfin, 86, is considered Peru's most accomplished artist. The youngest child in a poor family from a fishing village in northwestern Peru, Delfin graduated from the National School of Fine Arts in Lima in 1958. He served briefly as director of the Puno School of Fine Arts and then as an art teacher in Chile. Forty-nine years ago, Delfin established an eclectic art studio in the seaside district of Barranco, and he has been there ever since, producing art that has won many awards and honors.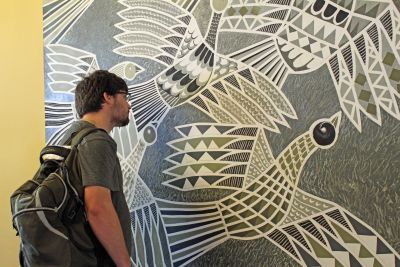 Delfín, whose art is shown in major museums across South America, North America and Europe, works with many materials, including wood, metal, canvas, polychrome acrylics and aluminum – whatever strikes his fancy at the moment. He insists that he has no favorite medium. He is especially known for large metalwork sculptures of birds, horses and other animals, as well as his sensual and colorful paintings. His best-known piece in Lima is "El Beso" (The Kiss), a 1993 sculpture of a couple locked in a passionate embrace. It is located in Lima's Parque del Amor (Love Park), and couples like to pose beside it for photos after weddings and especially on Valentine's Day.
Delfin's home is filled with art. Outdoors, we saw many sculptures, including angels, a bull, a horse and a lion. A sitting room held a hand-made chess set and wood and leather chairs made by Delfin. Even the bathroom in his studio was a work of art, covered in a mosaic of original tiles. Wide windows in his studio overlook a great expanse of the Pacific Ocean, beautiful on a sunny morning.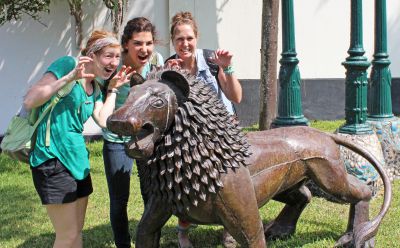 Students were attracted to Delfin's many colorful paintings of birds and horses, the large outdoor sculptures and a series of paintings of shantytowns, including one that depicted the grim aftermath of a devastating tuberculosis outbreak. Students also spent time viewing a painting that depicted the misery of Peru's war against Shining Path terrorists in the 1980s and 1990s.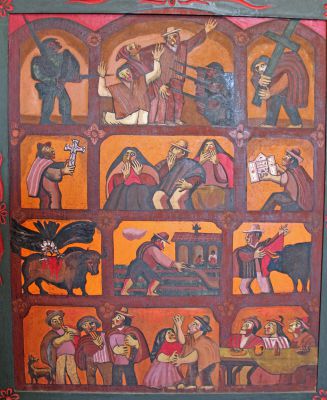 Delfin said his works often stray into such darker subjects as well as politics. He said he feels compelled to address social injustice and political themes in his art even though he conceded that collectors and museums seldom purchase such works; many end up permanently in his studio.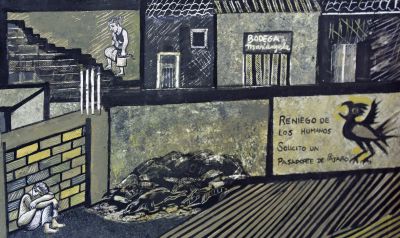 In the 1990s, he helped organize artists and writers in opposition to Peruvian President Alberto Fujimori, who had claimed dictatorial powers. Police injured Delfin twice during street protests. In 1995, Delfin participated in the Caucus for Peace, which brought together artists to protest the threat of conflict between Peru and Ecuador. When asked what motivated him to get involved in politics, possibly jeopardizing his career, Delfin told students, "To be a human being is to do it all. It was my obligation to help others."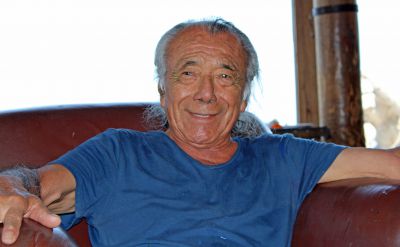 As to why he continues to work, Delfin said, "This isn't work. This is fun." He said his daily routine includes plenty of time to enjoy family and friends as well as to eat, drink wine, rest – and long periods to create art inspired by his life. "If there's no passion, there is no creation," he said. "I am paid to have fun."
Asked what he hopes his legacy will be, Delfin had a concise response: "When you die, people do what they want with you. You can't control that."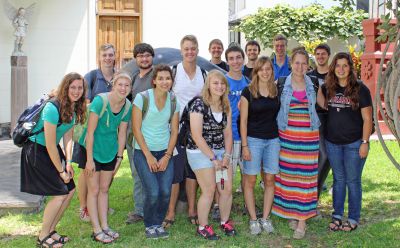 Students said the studio visit and conversation with Victor Delfin was one of their best field trips in Lima. They left with a better understanding of Peruvian art and of a master who has proven that there are no age limits to creativity.