Fulbito with family and friends
Goshen College students devoted one of their final Saturdays in Lima to play. Along with host family members and friends, they went to Parque Mariscal Castilla in the Lince district of Lima to play "fulbito," a scaled down version of soccer.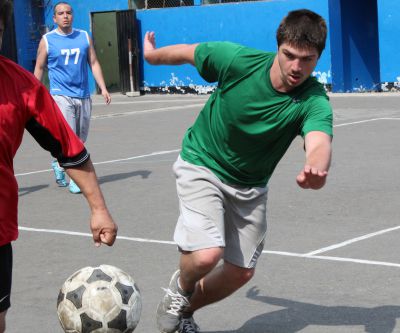 Fútbol, or soccer, is Peru's national sport, but fulbito is played more frequently, especially among children and adults and regardless of their fitness level, because it can be played on a smaller field and with fewer players. A Peruvian invention, fulbito is played on a basketball or volleyball court, of artificial grass, concrete, asphalt or even dirt, called a "cancha" (court). There are six players per side, plus a goalie. The length of games can vary, but each half can as little as 15 minutes, depending how long the players have access to the court. And although there is usually a referee, the emphasis is on fun, teamwork, trash talk and plenty of scoring.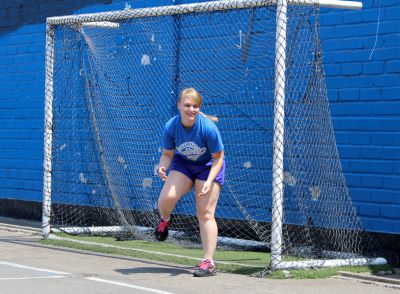 For our game, the host parents watched as their children and friends played a spirited mixed game with the Goshen students. The knowledgeable referee, who claimed to be "fair and incorruptible," was Oswaldo Aguirre, the husband of Lima Study Coordinator Celia Vasquez. There was excellent game action and all of the players worked up a sweat.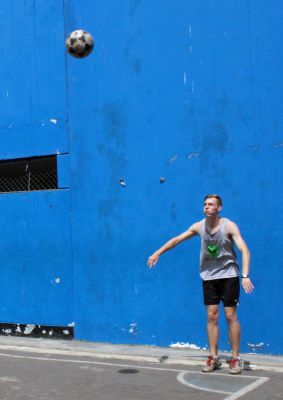 After a break, the players roughly divided themselves along national lines – Peru vs. the United States. For about 40 minutes, they ran, passed and scored. Although Peru put up a spirited defense, but the American offense was too powerful and the Goshen students prevailed by a lopsided margin. Afterward, a disappointed host father commented that the Peruvians lost because they did not play well as a team – the same characteristic, he said, plaguing Peru's real national team, which failed to qualify for this summer's FIFA World Cup in Brazil.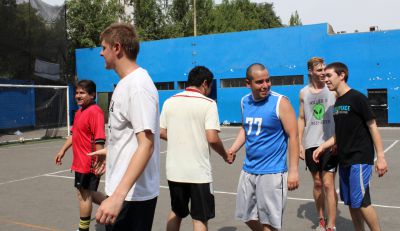 Despite that, all of the students, family members and friends had an enjoyable time on a sunny and warm day. And all left the court together – Americans and Peruvians – and strolled through the tree-lined park in friendship and with smiles and laughter.