While in Lima, Goshen College students benefitted from Spanish language instruction four days a week, extensive reading assignments and lectures on such topics as history, politics, health care, social issues, the environment, music and art. Students heard from 16 guest lecturers and workshop presenters. Most lecturers were Peruvians along with a few Americans who have lived in Peru from two to 50 years. Peru SST Co-Directors Richard R. Aguirre and Judy Weaver also lectured on such subjects as the Catholic Church, cultural adjustment, current events, Peru's cuisine and the War of the Pacific.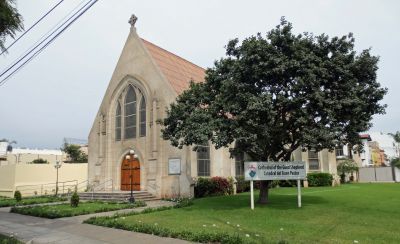 Classes were held four days a week at la Catedral del Buen Pastor (the Cathedral of the Good Shepherd), an Anglican church in the Miraflores district of Lima. As in the past, one of our initial speakers was a pastor from Buen Pastor. The Rev. Juan Carlos Marcés gave an overview of the Anglican Church in Peru and prayed for the safety and success of the students.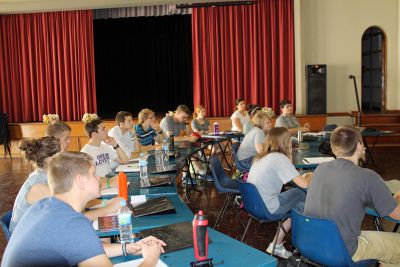 Our lecturers included:
James W. Plunkett, an American businessman, who provided an overview of Peru's economic and political history in a humorous, story-telling style.
Father Jeff Klaiber, an author and professor at Lima's Pontifical Catholic University, who talked about Peruvian politics and the Catholic Church, including Liberation Theology.
Father Eduardo Arens, Peru's foremost theologian, who spoke about Jesus' sense of humor and love for marginalized people.
Nestor Vergara Soria, a psychologist for a government agency that assists vulnerable populations, talked about social issues, including domestic and sexual abuse.
Javier Lizarzaburu, a former journalist who works for the Municipality of Lima, spoke about his efforts to increase appreciation for Lima's pre-Incan civilizations.
Jose Peralta, a sociology professor, talked about environmental justice issues involved in the globalization of food and agriculture, and the push by large international corporations for more genetically modified crops. Peru has imposed a 10-year ban on GMOs.
Rosario Rosas Durán, a professor of tourism and hotel management, spoke about Peru's booming tourism industry.
Jerry Acosta, a former banker and now an Anglican pastor, told his painful personal story about surviving the violence and turmoil during the military's war against Shining Path rebels in the 1980s and 1990s.
Dr. Townsend Cooper, a medical missionary with the Anglican Church, talked about his work in some of Lima's poorest neighborhoods and about Peru's health care system.
Inés Dayneé Orbegozo Sanchez, a forestry specialist, spoke about threats to Peru's Amazon rain forest.