Day One in Peru: Orientation
When the Goshen College students arrived in Lima and emerged from the airport about 12:30 a.m. Thursday, they were greeted with exceedingly rare summertime raindrops. It almost never rains in Lima, where the average yearly rainfall is less than 2 inches (and what moisture accumulates comes mostly from fog). Friday afternoon, we had a few more sprinkles and we even saw a rainbow as the host families were picking up the students – another rare sight in Lima. We'll take those as signs our students will have a very special time in Peru!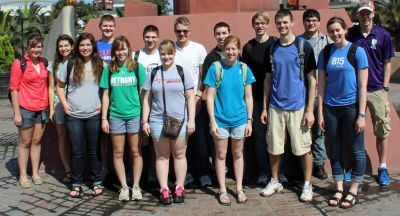 On their first full day in Peru, after a breakfast of coffee and tamales at the Miraflores House hostel, the group walked to the Ovalo Gutierrez, a big traffic circle and central location for businesses in the Miraflores and San Isidro districts. The students posed for the traditional first-day group photo and exchanged money. Then we walked on to Casa Goshen.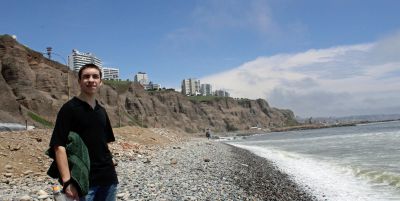 The morning included introductions, worship time and working through the Orientation Handbook with Peru SST Co-Directors Judy Weaver and Richard Aguirre. At lunch time, we strolled to a beachside park, just a few blocks from Casa Goshen. We descended a path from the top of the cliff to take in the magnificence of the Pacific Ocean. Then we climbed back up to the park to enjoy a picnic lunch and some activities to get to know each other better.  It was a hot, sunny day and a few of the students looked a little rosier when they returned to Casa Goshen.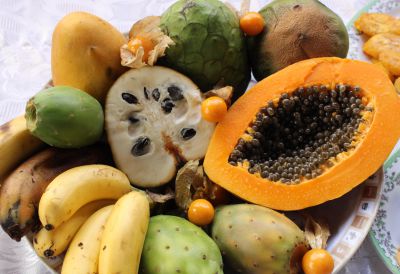 In the afternoon, Alicia Taipe Tello, who cooks lunches for the group twice a week, gave us a delicious fruit-tasting demonstration. Afterward, Richard gave an illustrated presentation about Peru's gastronomy. Then our Lima study coordinator, Celia Vasquez, talked with us about how to manage Lima's sprawling public transportation system and taught us how to greet people, Peruvian style. Celia helped prepare the students for meeting their host families on Friday.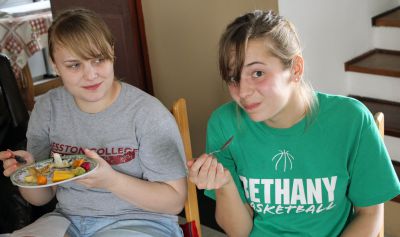 Alicia made us a delicious dinner of chicken, rice and vegetables, with mango-passion fruit juice. Finally, students received their first assignments and a big pile of books and headed back to the hostel for the night. It was a fun and rewarding day.
– By Judy Weaver