Preparing for new sons and daughters
Host parents for the Peru Study-Service Term students met Monday night with SST Co-Directors Richard R. Aguirre and Judy Weaver and SST Lima Study Coordinator Celia Vasquez. The meeting at the Anglican Cathedral of the Good Shepherd (Buen Pastor) was designed to give the parents an overview of the Spring 2014 program and to highlight the important roles and responsibilities of the host families.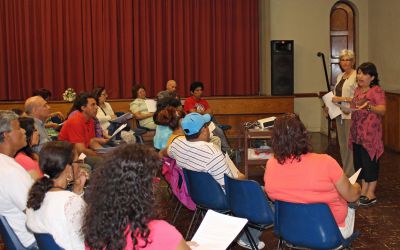 Judy and Celia provided key dates for the coming weeks and answered questions about ways to orient the students to Lima and make them feel welcome. Richard thanked the parents for their participation and for opening their homes and hearts to the students. He also shared information about Goshen College, distributed a description of the core values (translated into Spanish) and played three new TV commercial spots about the college that recently were produced in Spanish and which are being broadcast in Indiana.
The highlight of the meeting was the distribution of biographical information sheets prepared by each student. A representative of each family read aloud the name of his or her student and the descriptive information so that all families could learn something about the students. There were smiles and laughter as host parents shared about their future sons or daughters and talked about their anticipation of the coming weeks.