Rudy and Lauren are volunteering in Ayacucho, a historic city located in a scenic valley about 2,761 meters, or 9,058 feet, above sea level in the Andes mountain range. Rudy and Lauren are enjoying their service assignments and host families and also are taking time to explore a city of 151,000 people known for its colonial architecture, 33 churches (one for each year of the life of Jesus Christ) and religious observances.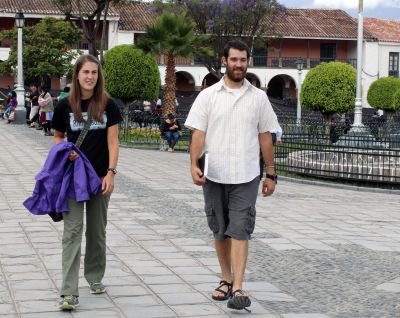 Spanish conquistador Francisco Pizarro founded the city in 1540 as San Juan de la Frontera de Huamanga and intended it to be a bulwark against a possible Inca rebellion. The city is celebrated throughout South America because of the critical battle for independence that was fought in 1824 in the nearby highlands of Quinua, which later became known as Ayacucho or "dead corner" in the Quechua language. General Antonio José de Sucre, who had been appointed by South American liberator Simón Bolivar, commanded troops that defeated Royalist forces, setting the stage for independence of Peru and the rest of South America. In honor of the victory, Bolivar changed the city's name to Ayacucho. A statue of Sucre in Ayacucho's main plaza commemorates the battle and its significance for the Americas.
Bloodshed and conflict returned to Ayacucho 156 years later with the advent of the violent revolutionary movement known as the Sendero Luminoso (Shining Path). Abimael Guzmán Reynoso, a philosophy professor at the San Cristóbal of Huamanga National University in Ayacucho, founded the Shining Path and launched a conflict that spread throughout the country. More than 70,000 Peruvians died in the 1980s and 1990s. Ayacucho was the departamento (state) that suffered the greatest number of killings – by the Shining Path as well as the military and police. That sorrowful era is remembered at the Museo de la Memoria, which relates the stories of the victims and the survivors, "so this never happens again."
Lauren divides her time between three small, private schools: Colegio Apostol Pablo, a primary school; Institución Educativa Privada William Thomson, a primary school; and Institución Educativa Inicial Privada Vidas, a preschool. Lauren assists in classes, models English pronunciation and takes lots of pictures. She uses her communication skills to add photos to and improve the web pages for the schools. Many of the students come from the low-income neighborhoods around the schools. Teachers and students alike appreciate Lauren's gentle demeanor and her ability to be flexible (she has to jump into whatever activity is going on each day – coloring, baking bread, singing, counting in English…).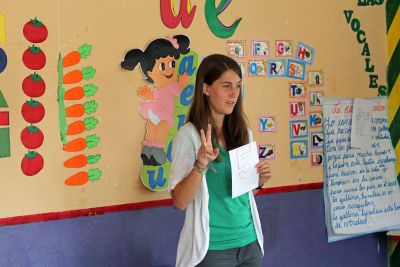 Rudy rises early in the morning to volunteer at the Centro de Salud San Juan Bautista. It is a large clinic located in the San Juan Bautista neighborhood of Ayacucho. Nursing student Rudy has assisted the nursing staff both in the emergency room and obstetrics unit, where he does intake tasks such as weighing and measuring newborn babies. The staff is grateful for his help; the area has a shortage of healthcare workers. The patients are both Spanish and Quechua speakers. Rudy has learned a few Quechua phrases in addition to his Spanish, but it is sometimes hard to communicate! Still, he makes connections with his friendly smile and professional manner.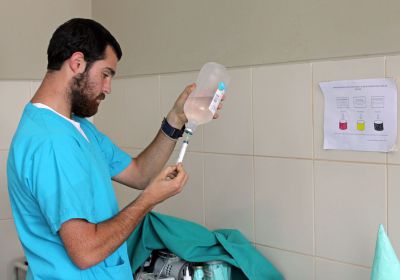 After work, Lauren and Rudy like to hang out with their little host brother and sister or study on the roof of Lauren's house, under the deep blue Ayacucho sky. Lauren is living in the home of Nieves, a single mother who supports her son by selling shoes at a booth in the market. Rudy lives next door with the family of Nieves' brother. Rudy's host parents, Dionisio and Elizabeth, have five children. They are founders and administrators of the schools where Lauren works. Dionisio is also a pastor. Rudy and Lauren have enjoyed becoming part of this busy, extended family.