Saying farewell to Lima families
As the time in Lima draws to a close, the Peru SST unit has a tradition of gathering the Lima staff and host families for a despedida, or goodbye party. This semester's group felt a little intimidated, being only seven in number and having heard great things about elaborate past despedidas.
However, as they began preparing, the magnificent seven got inspired. They decided on a fall theme, with flowers in autumn colors, a pumpkin-carving contest and apple-bobbing (in Lima, summer is just beginning). During their last two weeks of language classes, they put in extra time to prepare a short drama of a traditional Peruvian story about a man who dreamed of flying. They even spent a day baking all the treats for the evening themselves: peanut butter pie, derby pie, Jell-O salad, apple crisp and chocolate chip cookies. In lieu of orange pumpkins (available in Lima, but imported and expensive), they opted for the local dark green zapallo squash – selecting some that were similar in size and shape to Halloween pumpkins.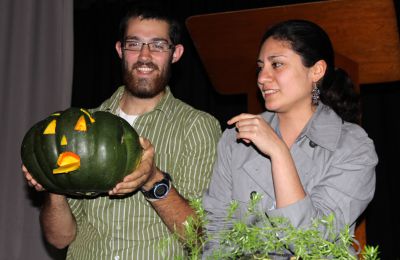 Richard and Judy kicked off the evening with the director's greeting and heartfelt thanks to the host families. We know that the students' families back in the states share our gratitude to these wonderful folks who open their homes and hearts to our GC students and care for them and look out for them. Throughout the evening, the students took turns giving short speeches of thanks to their host families. There were some tears and hugs.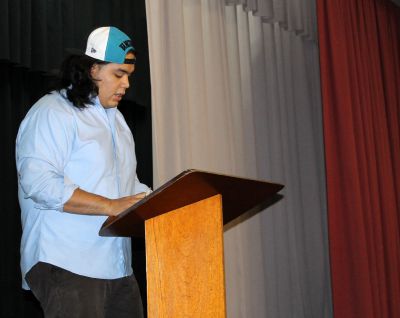 Later, families said that in addition to the delicious desserts, one of the highlights of the evening was the "Lost in Translation" skit in which students presented their most embarrassing or funny errors in Spanish. The evening was a fun way for the students to wrap up their time in Lima and say a warm farewell to their host families. The next day, the students departed by bus for their service assignments in Ayacucho, La Merced and Tarma.