Touring Cusco and the Sacred Valley
The Peru SST group spent three sunny days exploring Cusco and Peru's Sacred Valley with the help of our guides, Abrahan Quispe Corrales for Cusco and Oswaldo Palomino Alvarado for the rest of our trip.
Cusco was the heart of the Inca empire when the Spaniards arrived in 1526; in fact the Incas referred to it as the "navel of the world." At that time, the Inca realm extended thousands of miles, encompassing parts of modern-day Argentina, Bolivia, Colombia, Ecuador, Peru and Chile. Inca leaders ruled over an estimated 10 million inhabitants, from 1438 to 1533.
After the conquest, the Spaniards tore down many Cusco buildings and constructed their own palaces and churches on top of the Inca foundations. Examples of cultural fusion are still present – monumental Inca stonework on the bottom and colonial architecture on top. But the Spaniards could not tear down or build over all the Inca construction. Inca ruins are everywhere in the Cusco area.
We began our tour above Cusco at Saqsayhuaman, a walled complex of colossal rocks, carved to fit so closely that not even a knife blade could fit between them. We had read about an important battle that took place there in 1536. We visited the ruins of Inca way stations, military outposts, holy places and Qorikancha, the most important Inca temple, which was largely destroyed by the Spaniards to make way for the Church of Santo Domingo. In the evening, we returned to Cusco's beautiful central plaza for dinner, a visit to the artisan market and to attend a folkloric dance show.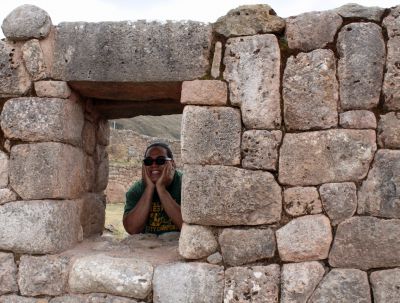 On the second day, we traveled by bus through the Sacred Valley, stopping at more Inca sites. We visited Chinchero, where Inca royalty once sat on stone thrones to observe festivals; Moray, an ancient agricultural laboratory with stunning circular designs; and the Maras salt mines, which have been in continuous use for 1,000 years. We learned how artisans die yarn for alpaca weavings and then we enjoyed a lunch of traditional Andean specialties, including guinea pig, or cuy. We later arrived in the town of Ollantaytambo, where people still live in stone houses built centuries ago by their ancestors and walk on cobblestone streets with water flowing in canals along the side, just as in Inca times.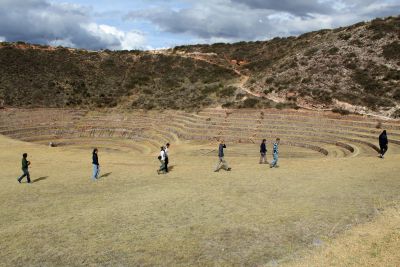 On the third day, we explored Ollantaytambo, climbing to Inca storehouses on a steep mountainside and then to the great Inca fortress and administrative center, site of another great battle we had read about. This was one of our favorite days; the views were spectacular. In the late afternoon, we took the train through the Urubamba River valley, dropping in altitude and watching beautiful scenery as mountain terrain give way to high jungle. By early evening, we arrived in the town of Aguas Calientes – our jumping off point for our visit to Machu Picchu the next day.