Learning, dancing and meeting new families
Goshen College students began their week in Cuzco with study, music, dancing and quiet time with new host families. It was a great start to what proved to be a rich week filled with hiking, learning, exploration, new experiences and awesome beauty.
After an uneventful flight from Lima to Goshen, students relaxed in Sol de Oro, a beautiful hotel perched on a hillside just outside Cuzco. Some students suffered from fatigue or headaches from altitude sickness; the elevation in Cuzco is 11,200 feet. The symptoms eased after a light supper, herb tea and a good night of rest.
The next day, after breakfast, students enjoyed an excellent presentation on the Inca civilization and Andean spirituality by Juan Carlos Machicado Figueroa, a tour guide, lecturer and author of "When the Stones Speak: Inkan Architecture and Spirituality in the Andes." Machicado compared and contrasted the beliefs of Christians and the Incas and described the significance of archaeological sites. He also helped students understand how the Incas incorporated their spiritual beliefs into their architecture.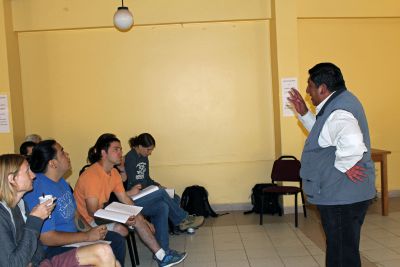 After lunch, students enjoyed a presentation on Andean music by Americo (Amaru) Mejia Suñiga and Mauro Claros Chatas, two talented Cusco musicians adept at playing many instruments. They performed traditional Andean music, taught students how to play the pan flute. We danced to their lively music while an afternoon rainstorm drenched the landscape outside.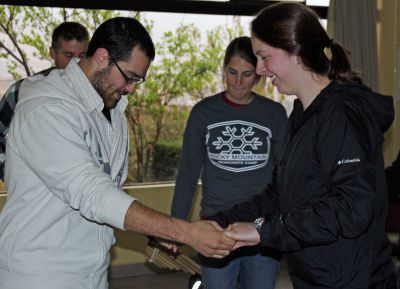 That evening, students traveled to Lucre, mountain town of several thousand people. The first Mennonite Church in Peru, La Iglesia Evangelica Menonita de Lucre (Lucre Mennonite Evangelical Church), was founded here in 1990. Students spent the weekend with host families in Lucre. On Sunday, students joined their host parents for a worship service in Spanish and Quechua. Afterward, we invited the families for a delicious lunch at a trout farm owned by Eloy Sullca Bombilla, pastor of the Mennonite church.