Fields of service, play and friendship
Goshen College students recently visited three fields for service, play and friendship. They gained new insights into life in Peru as they prepared a field for planting, played with school children and participated in a cultural interchange with Peruvian college students.
They began their visits in Villa María del Triunfo, a southern district of Lima founded 52 years ago by migrants who "invaded" the area and built homes on the coastal sands. Villa María now is home to more than 360,000 people, many of whom struggle with underemployment, poverty and malnutrition. It has been estimated that one-third of residents lack electrical service and more than one-fifth lack running water.
To help relieve hunger, improve diets and provide additional income, the municipality, aided by an international non-governmental organization, has started biohuertos, or urban community gardens, for residents. We visited Niño Jesús (Baby Jesus), a garden that is tended by about a dozen families. The gardening program was granted use of vacant land underneath power lines by the electric company. Before the gardeners cleared the land, it was used as a place to dump garbage.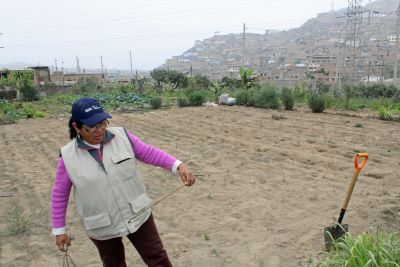 Señora Gregoria Flores, who helps coordinate the program, said families have learned how to cultivate gardens with poor sandy soil and limited rainfall. Using fertilizer, a drip irrigation system and many hours of patient work, residents have learned how to grow abundant vegetables and fruits without using any insecticides or herbicides. Besides improving their diets, the surplus organic produce is sold at local farmer's markets, thus supplementing family incomes.
Students spent the morning preparing a plot for replanting by turning over the earth with pick axes and shovels, adding fertilizer, blending it into the sandy soil, adding water and turning over the soil until it was loose and ready for seeds. The work was difficult because the soil was compacted and bone dry, but it was a labor of love because students were preparing a garden for a woman suffering from cancer. Students also planted seeds to provide vegetable starts for the garden.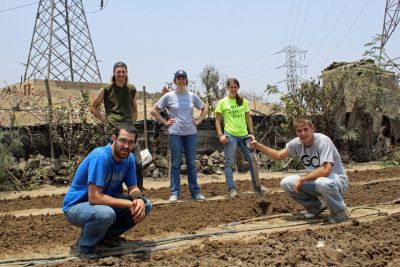 After washing up, students went to the nearby home of Alicia Taipe Tello and enjoyed a delicious meal of anticuchos (skewers of beef heart and chicken), potatoes, corn on the cob and chica morada, a delicious juice made of boiled purple corn, pineapple juice and spices.
Students then traveled to the adjoining district of San Juan Miraflores to visit an after-school program operated by Compassion International at Misión Cristo Redentor (Christ the Redeemer), an Anglican church in a poor neighborhood. Pastor Anderson Sanchez explained that the program provides a meal, homework assistance and religious instruction for the children as well as a safe place to hang out and play after school. After listening to a Bible verse and a brief sermon from Pastor Sanchez, Goshen students played soccer, basketball and volleyball with the children.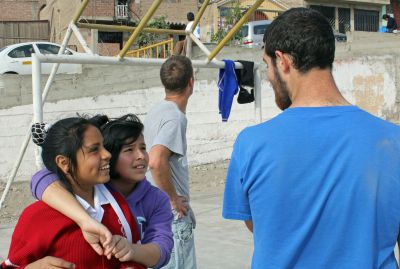 The next day, Goshen students visited another field to play. They went to an Anglican church in the Santiago de Surco district of Lima and met with Peruvian university students who are studying English. They helped the Peruvians practice their English and worked on their Spanish. Afterward, they played a spirited game of "Fulbito," a Peruvian version of soccer played on a basketball or volleyball court or smaller field with six players per side.