Lima lecturers and Spanish classes
While Goshen students are in Lima, their studies on language and culture include Spanish classes and a series of lectures. This semester, students welcomed 15 lecturers on a wide variety of topics about Peru. Most of our lecturers were Peruvians, with a few Americans who have lived in Peru from two to 50 years. Our lecturers greatly contributed to our understanding about the history, culture and issues of Peru.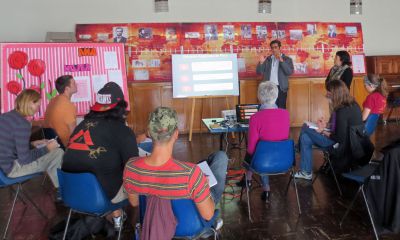 Since we rent classroom space from la Catedral del Buen Pastor, an Anglican church, we kicked off the program with a welcome from our host, Reverend Jorge Zamudio Bustamonte. Reverend Zamudio is the first Peruvian rector of what was once an exclusively English-speaking church in Peru. Reverend Zamudio shared his fascinating personal story about leaving the Catholic Church and eventually finding his way to the Anglican Church.
Other highlights:
James Plunkett, an American businessman gave us an overview of Peruvian history and current events in his own inimitable story-telling style.
Father Edward Arens, a noted theologian and author, spoke about Jesus' sense of humor and love for marginalized people.
Jose Peralta, a sociology professor, talked with us about environmental justice issues involved in the globalization of food and agriculture, and the push by large international corporations for more genetically modified crops. Peru has imposed a 10-year ban on GMOs.
Maria (last name withheld) shared her painful personal story of wrongful imprisonment. She and other university students were rounded up during a crackdown on the Shining Path rebels. This and similar actions by then-president Alberto Fujimori ended the war, but at a high human cost. Fujimori is now in prison for human rights violations.
Dr. Townsend Cooper, a medical missionary with the Anglican Church, talked about his work in some of Lima's poorest neighborhoods, and about Peru's health care system.
Father Jeff Klaiber, an author and professor at Lima's Pontifical Catholic University, talked about what he jokingly called "two non-controversial topics": Politics and Religion. He also outlined the history of the Catholic Church in Peru and explained Liberation Theology, "South America's great contribution to theology."
Miryam Yauli, a consultant on social policy, talked about the role of non-governmental organizations in Peru, and helped students think about what they wanted to bring and what they hoped to take away from their time of service.

Reverend Jorge Zamudio offers a welcome on the first day of classes.

Reverend Zamudio of the Catedral Buen Pastor

James Plunkett is an American businessman who has lived in Peru 50 years.

Father Eduardo Arens was one of our most distinguished speakers.

Father Arens talked about Jesus' sense of humor and love for marginalized people.

Father Jaime Regan, a professor of anthropology, brought the Amazon to life for us with with photos and stories from the Amazonian people.

Nestor Vergara Soria spoke on the problems of the urban poor. He is a psychologist with the Ministry of Women and Vulnerable Populations.

Journalist Javier Lizarzaburu described Lima Milenaria, an educational project about the indigenous people who inhabited Lima before the conquistadors arrived.

Jose Peralta earned his doctorate in environmental sociology at the University of Illinois.

The students had thoughtful questions about the advantages and dangers of the globalization of food.

Jorge Lecca is a professional musician who told us about music education and the music business in Peru.

Dr. Townsend Cooper is a pediatrician who works with chronically ill children.

Alan, Jacob, Landon and Josh got a kick out of one of Dr. Cooper's stories.

Lauren, Becca and Rudy in discussion with Dr. Cooper.

Maria and her family suffered greatly during the Shining Path conflict.

Maria's story was hard to hear, and equally hard for her to revisit. She put a human face on the events we were reading about.

Miryam Yauli helped students consider how they might fit into the work of agencies, schools and clinics.

Miryam woke us up with a game similar to musical chairs.

Josh, Landon, Lauren and Alan tackle a question in small group work.

Rudy, Becca and Jacob working together.

Josh explains his group's ideas.

Pastor Jerry Acosta witnessed some of the Shining Path's worst violence. The war of the 1980's and early 1990's left no family untouched.

Our Lima coordinator, Celia Vasquez, translates Pastor Jerry's words.

Jacob and Landon taking it in.

Father Jeff Klaiber talked about the interaction of religion and politics in Peru, both historically and currently.

Father Klaiber's session was highly informative.

A lot to think about! Rudy and Becca give their attention to the speaker.

Moises Arce teaches the "Sierra" Spanish class.

Moises and his class.

Ana Bracamonte teaches the "Selva" Spanish class.

Ana works on a grammar point with students Alan and Jacob.

Ana and students Jacob and Alan – a small but happy class.