Discovering culture through herbs and jewelry
Although some of the tastiest coffee in the world grows in Peru, we have been interested to learn that that Peruvians are not big coffee-drinkers. Breakfast is more likely to include a warm emoliente (a sweetened barley-based herb drink).  For visiting and break-times, Peruvians appreciate a cup of herb tea. We asked Alicia Taipe Tello, who cooks for the Peru SST group several days a week, to show us some of the more common Andean herbs and tell us about their uses.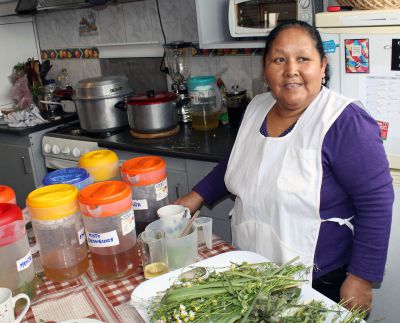 Alicia grew up in the Andes and learned to use herbs as a child, when she helped to care for her younger sister. Sometimes there was no milk for the baby's bottle, but her mother taught her to give the baby teas of chamomile and other gentle herbs. Like many people from the mountains, Alicia knows where in Lima to find a wide variety of herbs and how to prepare them as an effective stress reliever or cold remedy or simply as a flavorful cup of tea to enjoy with a friend.
Alicia gave us an intimate and fascinating workshop in the kitchen of Casa Goshen, with Director of International Education Tom Meyers joining us that day. We tasted brews of aloe (for sore throats), manzanilla (chamomile, to soothe the nerves), muña (a native mint, to calm the stomach), and a variety of other herbs such as anis (anise), hierba luisa (lemon grass), cedrón (lemon verbena) and uña de gato (cat's claw). She also showed us coca leaves, which Andean people chew as a mild stimulant, or drink in tea to relieve altitude sickness or stomach pain.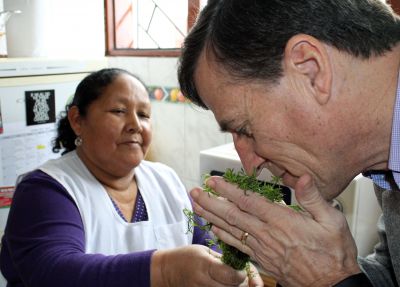 About a week later, the Goshen students had a chance for creative expression during a jewelry workshop with Eliana Mauriola Carrasco, a long-time host mom and friend of the Peru SST program. Eliana makes jewelry as a cottage business and has begun selling necklaces, bracelets and earrings overseas.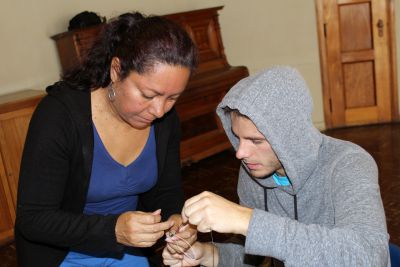 First she described the Peru-grown materials, which included large and small seeds, carved and polished coconut skin and shells, dyed in many bright colors. With Eliana's patient instruction, the students spent a morning making beautiful necklaces and bracelets. The students seemed satisfied with their creative efforts.