Serving – and learning from – Lima's poor people
First-time visitors to Lima, Peru are confronted by many stark contrasts, among them the huge disparities between the city's richest and poorest residents and its most established and newest neighborhoods.
Goshen students witnessed these contrasts when they spent time with some of the city's poorest residents. In doing so, students experienced a range of emotions as they completed a service project, learned about the reality of life in a shantytown and ate a modest meal with people who lack running water and sewer connections and struggle to make ends meet.
The day began as students left the upscale district of Miraflores, which has been occupied by people since at least 400 A.D. and was established officially as a district of Lima in 1857. Miraflores, which has about 90,000 residents, is known for its beautiful homes as well as luxury hotels, shops and restaurants that are magnets for tourists. Students traveled to Villa El Salvador, which was established in 1970 as a shantytown in the sand flats south of Lima for tens of thousands of immigrant families. Since then, Villa El Salvador has become an urban expanse of 436,000 people, but retains a rough, unorganized and dusty appearance that appeals to few outside visitors.
Still, within Villa El Salvador are neighborhoods so new and impoverished that they often lack basic services and were until recently considered nuisances by government officials. Once such area is Chavín de Huántar.
While residents have managed to arrange for electrical service, and some have concrete floors and wood or brick homes with roofs, they still lack paved roads, sewer and water service. Most residents pay inflated prices for water – and still wait days for a delivery. So in what has become a tradition for the Peru Study-Service Term, we purchased a truckload of water and donated it to residents of the neighborhood.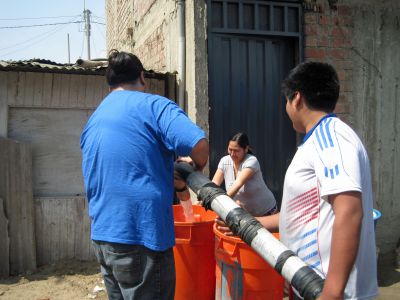 While some Goshen students initially said they felt like unwelcome sightseers or naïve do-gooders as they began distributing water, all warmed to the task as residents waited patiently for water and expressed gratitude for the modest allotments they received in plastic containers. Actually delivering water from two large hoses on the back of the truck took some practice. Students had to fill containers quickly and then lift the hoses at exactly the right second to avoid wasting water or getting soaked.
Afterward, students crowded into the tiny home of Corpusa Villavicencio Zela, a 37-year-old mother of four who was part of a group of 2,000 homeless people who squatted on the privately-owned land that has become Chavín de Huántar. She recounted the economic pressure that forced her to leave her highlands community at age 13 and to seek a better life in Lima as a maid.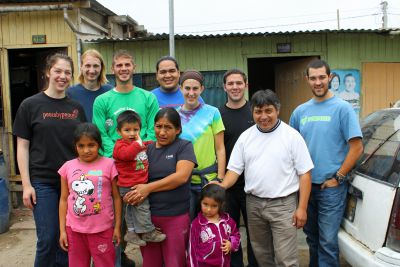 In 1999, Corpusa and her husband joined others who "invaded" a vacant piece of land in hopes they might someday win the right to stay permanently. They divided the land into lots, each about 20 feet wide and 33 feet long, and laid reed mats on the sand and stayed. They endured extreme temperatures and insect bites and held the ground, even when repeatedly evicted by police. Eventually, residents replaced plywood shacks with more permanent structures, added metal roofs and concrete floors and – earlier this year – finally got regular electrical service.
Although 600 residents finally won the titles to the land in Chavín de Huántar two years ago, life is a continual struggle, Corpusa said. Her husband works from 6 a.m. to 11 p.m., six days a week, and the family cannot afford to hook up to the new sewer system or any future water service. Yet she has hopes for the future: "My dream for my children is that they get an education and get jobs. My husband suffers a lot on his work and I don't want that for my children."
After listening to Corpusa's compelling story, the students stepped past stray dogs and walked to a neighboring home where they ate a modest but tasty meal. As they departed the neighborhood, students and neighbors exchanged farewells after a brief but meaningful encounter. Students said they were humbled by the experience and more grateful than ever that they have safe and plentiful water and other essential services readily available back home.