Ancient ruins amid modern high-rise buildings
Visitors to Peru seeking to learn about pre-Columbian civilizations usually make a beeline to Machu Picchu, an essential travel destination in South America. The 15th-century Inca refuge located high above the Sacred Valley, 50 miles northwest of Cuzco, is considered among the greatest artistic, architectural and land use achievements anywhere and has been designated as a World Heritage Site by the United Nations Educational, Scientific and Cultural Organization (UNESCO).
Although no other Peruvian site can match the awe-inspiring Machu Picchu, Lima can offer visitors a keen understanding of pre-Conquest history. As James Higgins, author of "Lima, A Cultural History," has pointed out, the City of Kings has Peru's finest museums and excellent collections of artifacts from indigenous civilizations that flourished long before the Inca. It also has many ancient sites. "The history of the Lima area stretches back," Higgins writes, "in short, to the very origins of civilization in Peru."
Huaca Pucllana, which is located in the modern and trendy Miraflores district, served as an administrative and religious center of the Lima Culture, which dominated coastal Peru from 200 to 700 A.D. The site includes a huge reconstructed pyramid of clay and adobe bricks, and surrounding structures as well as figures representing those who worked and worshipped here. A small museum includes ceramics and textiles and explanations of the significance and contributions of the Lima culture.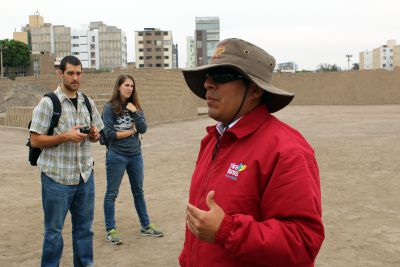 On a cool, gray morning, Goshen College students toured the site, which is a few blocks away from the Anglican Cathedral of the Good Shepherd (Buen Pastor), where students attend lectures and take Spanish lessons. Students learned that Huaca Pucllana was built and used between the years 400 and 700 AD. The present six-acre site is only a fraction of a larger complex dedicated to a female divinity associated with the sea and its resources. Later, the site was used for burials and other ceremonies by other cultures, including the Wari people.