Goshen College students arrive safely in Peru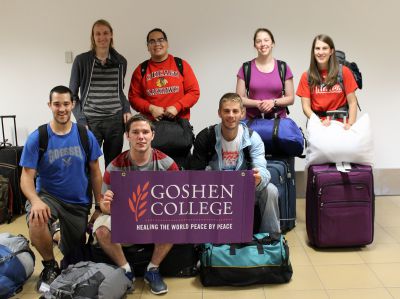 And so it begins! United Airlines Flight 854 arrived safely and on time from Houston, Texas, touching down at Jorge Chávez International Airport at 10:20 p.m. Wednesday night (Sept. 4). After moving through customs and immigration in 60 minutes, the seven Goshen College students appeared tired, relieved and cheerful, even when posing for the obligatory arrival photo for the folks back home.
Accompanied by SST co-leaders Richard R. Aguirre and Judy Weaver and Celia Vasquez, our study coordinator, the students stepped outside and breathed in Lima's 59-degree temperature – not too different than Goshen this time of year. The students then boarded a bus for the 50-minute journey to Miraflores House, their hostel and home for the next two nights. Along the way, everyone was given bottled water, packets of crackers and cookies and a bar of Sublime, a Peruvian chocolate bar that truly is sublime.
Tomorrow the students will take a walking tour of the their new neighborhood, participate in orientation at Casa Goshen and enjoy a picnic and visit to the beach. But for now, it's good night to all. Gracias a Dios, los estudiantes están aquí y están bien (Thank God the students are here and are well)!