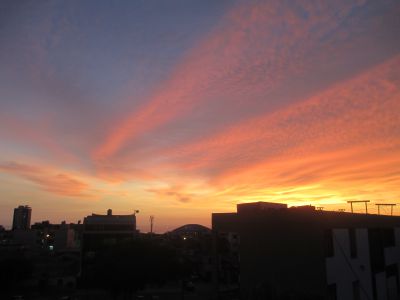 Lima is a thriving metropolitan area situated along Peru's central coast.  The population has swelled in recent years as families move here to find work or enroll their children in what are considered the best schools in the country.  Several decades ago people migrated here to escape the threat of violence during the bloody conflict between the Shining Path terrorists and the government soldiers.  Today more than 8 million people live in Peru's capital city, leaving behind the customs and traditions of their birthplaces in exchange for new opportunities and a faster-paced life style.
Lima, or more precisely Criolla, culture is a blend of Spanish, coastal and North American influences.  Francisco Pizarro, the leader of the conquistadors who conquered the Inca Empire in the 16th century, founded Lima on January 18, 1535.  This was Three Kings Day, hence Lima's nickname, "City of the Kings."  Lima quickly gained predominance over Cusco, the capital of the Inca realm, as the Spanish gained in power and influence.  Lima's location along the coast, with a port that is open year-round, made it the perfect place to collect and export the country's riches from the New World to the Old.  Untold tons of gold and silver were shipped from Lima to Spain, Italy and other European destinations before Peru finally gained independence in 1821.  But precious metals were not the only export from South to North — native plants like potatoes and corn revolutionized European agriculture.  And other crops, such as coffee and sugar, brought welcome new tastes to the European and, later, North American diet.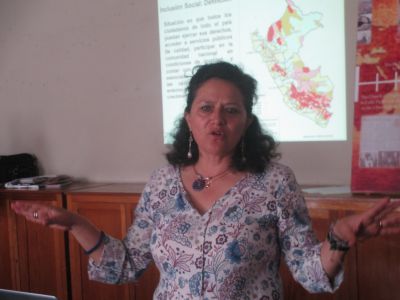 Our Lima program features speakers from a variety of fields.  James Plunkett, a semi-retired U.S. businessman who has lived in Peru for over 40 years, walked us through five decades of political and economic history.  Jenny Menacho, who works at the government's recently-formed Ministry of Development and Social Inclusion, defined the concept of "social exclusion" and explained the programs designed to bring excluded Peruvians into the mainstream.  Nestor Vergara, a sociologist who works for another government ministry, Women and Vulnerable Populations, described what life is like for Lima's recent immigrants who populate the "cones" — the marginally-developed, low-income neighborhoods — that surround the metropolitan area.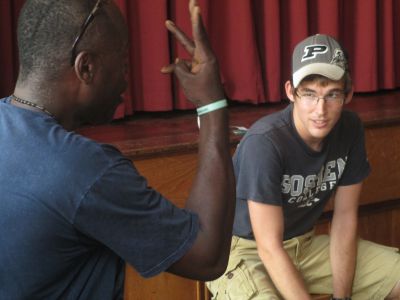 Lima is well-known for its Arts and its Culture, with a capital "C".  We invited two performers, Pedro Farias and Camilo Ballumbrosio, to share their knowledge of dance (Pedro) and percussion (Camilo), teaching us a few moves in the process.  At lunch time our Lima chef, Mervi, serves dishes like ceviche (fish cooked in lime juice) that are common along the coast.  Language classes continue each afternoon with our Lima Spanish instructors, Irene, Ana and Moises.  And on the weekends, the students have opportunities to visit two well-known museums with their host families:  the National Museum in San Borja and the Museum of Archaeology, Anthropology and History in Pueblo Libre.