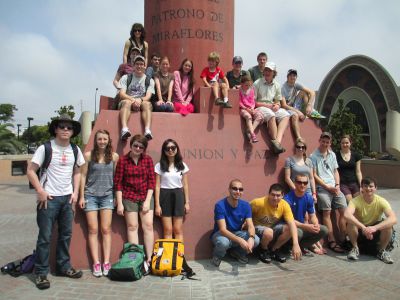 Our introduction to life in Peru began in the nation's capital, Lima.  The students awoke to a warm, sunny day and took a walk through the districts of Miraflores and San Isidro, observing the modern architecture and some oddly familiar images — the new KFC on the corner offers valet parking.  They changed their dollars into nuevo soles and learned how to work the ATM machines.  After stretching their legs, the students arrived at the directors' home, Casa Goshen, where fresh orange juice was served and introductions were made.
In the afternoon we took a walk down to the malecon, the bluff-top park that overlooks the Pacific Ocean.  We enjoyed a picnic of triple sandwiches (three slices of bread, or was it four?) and fresh fruit.  Then we descended the stairs down to the rocky shoreline and spent some time reflecting on "the beginning" — the first day of the Peru Study Service Term.  Afterwards we climbed back up to the bluff top and headed back to Casa Goshen for a talk about logistics, money, transportation, food and "being present" in Peru.  Maps and books were distributed, along with the reading assignment for the first week.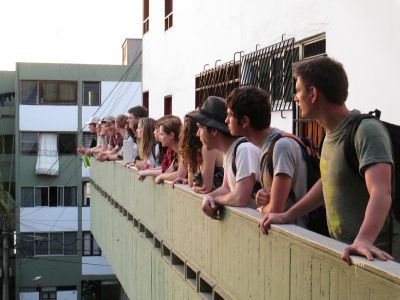 Alicia, our program assistant and an excellent chef, prepared baked chicken with papa a la huancaina for dinner.  Then we walked back to the hostel, Miraflores House, so the students could catch up on their sleep.  Having checked in at the hostel at 2 am that morning, they seemed ready to get some rest.  A good thing, too — our plan for the next day included a 6 am departure for the airport and a morning flight to the Inca's ancient capital of Cusco.