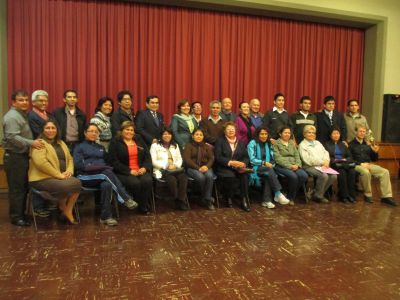 This semester makes history:  For the first time, students coming to Peru to study Spanish will be joined by those studying Sign Language.  We will all be together for lectures, workshops and field trips — learning about life in this diverse and dynamic South American nation.  Then each afternoon 13 students will head off to Spanish class while the other 5 join a Peruvian Sign Language professor to practice the method of communication that is increasingly common in the local deaf community.
Over the past year our team of directors and coordinators have recruited sign language instructors, interpreters and host families.  Earlier this week we met together to prepare for the students' imminent arrival in Lima.  The host family meeting was particularly rich, offering a chance for families with hearing-impaired children and parents to learn more about Goshen College's Study Service Term as well as get to know the families who regularly host our students.  In a single evening our eyes were opened and our community became much more diverse, a truer representation of the broad spectrum of life here in Peru.
And now we eagerly await the arrival of our new group of students!