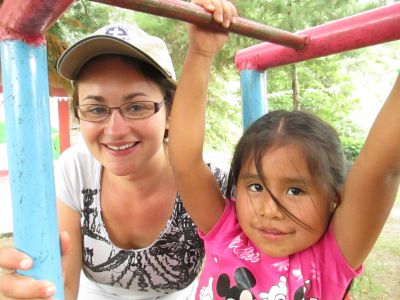 Oxapampa is a charming city of 10,000 inhabitants situated in a broad river valley in the upper rain forest.  The town was founded by Austrian immigrants in the middle of the 19th century.  Life in central Europe was difficult at that time due to famine and war.  In 1853 a representative of the Austrian government signed an agreement with Peru to permanently relocate hundreds of migrants to the eastern flanks of the Andes.  Each settler had to (1) be a member in good standing of the Catholic Church, (2) be married and (3) have a trade.
In 1857 the first group of 300 settlers – representing all the trades necessary to start a new village – arrived in Peru.  They traveled over the Andes and, despite numerous hardships and tropical diseases, established a village they called Pozuzo.  In 1891 many of these families moved to a higher-altitude location with a cooler, dryer climate and named the place Oxapampa.  The influence of these European founders is still evident today in its people, its architecture and its cuisine.  Oxapampa is particularly known for its chalet-style houses and its dairy products — milk, yoghurt and cheeses.  And in 2010 the region was designated as the "Oxapampa-Ashaninka-Yanesha Biosphere Reserve" by UNESCO (United Nations Educational, Scientific and Cultural Organization), seeking to conserve biological and cultural diversity while promoting economic and social development.
Lavonne, who goes by her middle name Rosa while in Peru, is volunteering at an after-school program sponsored by Compassion International.  The project is operated by the Iglesia Alianza Cristiana y Misionera (Christian and Missionary Alliance Church).  The children are sponsored by North American and European donors and come to the church each day for a healthy meal and activities meant to complement what they are learning in school and provide a basis for spiritual formation.  Lavonne helps out in the office in the mornings and assists with the 8 and 9-year-old class.  Afterwards she spends time in the library prepping for her English classes – she teaches her native tongue to a different age group each day of the week.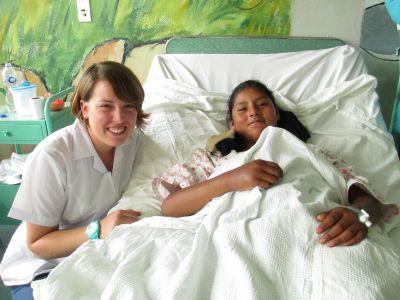 Rebekah is volunteering at Oxapampa General Hospital.  Patients come from all over the province to be treated for a variety of injuries and illnesses.  Rebekah works with nurses, doctors and interns, helping out wherever she is needed.  Each day she accompanies staff as they make their rounds, checking vital signs and updating charts.  She has assisted in the emergency room, prepared bandages, helped out with baths and, through her cheerful presence, brought hope and encouragement to patients as they recover in the hospitalization ward.  She has also witnessed her first birth.  And several afternoons a week she accompanies a nurse on her visit to the Compassion International project at Alliance Church, assisting with the nutrition and health program.
Rebekah and Lavonne make quite a team!  We had a chance to observe their work with the Compassion International children on a field trip to nearby Tsachopen.  Demonstrating God's love, offering their undivided attention and providing a positive role model to these disadvantaged girls and boys is rewarding work.