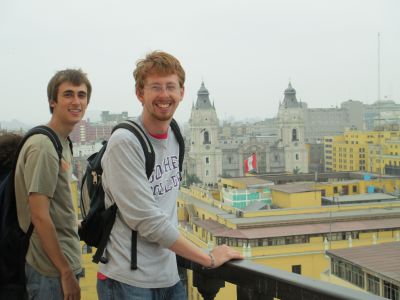 Lima — the City of the Kings — was founded in 1535 by Francisco Pizarro.  For almost three centuries it served as the political and economic hub of the Spanish Empire in western South America.  In 1821 Peru gained independence from the Spanish crown and Lima became the capital of a new nation.  Today over 9 million people call Lima home — most of its residents are first- and second-generation migrants from the Andes and rain forest who have moved here in search of work and education.
We spent a day with our study coordinator, Celia, learning about the history of this fascinating city.  We began at the Huaca Pucllana, an archaeological site dating back to 500 A.D.  Our guide, Pedro Vargas, explained how the pyramidal structure we climbed served a variety of religious, political and economic purposes.  He and other archaeologists believe the "Lima" culture that inhabited this part of the coast was matriarchal in nature;  the people worshiped feminine deities such as the moon and the sea and, when it was time for a human sacrifice, young girls were chosen.
Our next stop was the Plaza Mayor, known in colonial times the Plaza de Armas, Lima's central plaza.  We observed the changing of the guard at the presidential palace, noted the presence of the major powers aligned around the plaza (national government, local government, commerce and the Catholic Church), then walked a few blocks to Cafe Raymondi where we enjoyed a delicious criollo lunch.
In the afternoon we explored the Santo Domingo Cathedral and Convent.  The Dominican order was the first to establish a church here and is the resting place of Peru's two saints, Saint Rose of Lima and Saint Martin of Porres.  Saint Rose was the first saint of the Americas, canonized in 1671;  Saint Martin of Porres lived in the same century but was only canonized in 1962, becoming the first American saint of African descent.  We finished our visit to the church with a climb to the top of the bell tower for a bird's eye view of downtown.