Andean Culture and Reality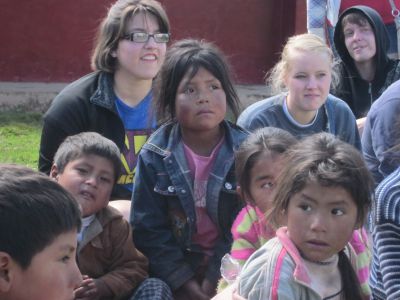 There are many ways to gain understanding of a culture — lectures, workshops, service projects and learning tours.
Juan Carlos returned for a second time to teach us more about Andean spirituality.  Catarina, an agronomy professor at San Antonio Abad National University in Cusco, described the political, social and environmental realities of mining.
Jesica and Herbert demonstrated traditional folk dances from the Cusco region and walked us through the steps.  Some of the traditional beliefs and ethics presented by Juan Carlos and Catarina were embodied in these dances.  To understand their rhythms and cadence we needed to try them ourselves!
We accompanied Pastor Roberto on a service visit to the village of Patabamba, a short drive but a world away from where we have been living.  We spent the morning at the village school where we witnessed firsthand the effects of malnutrition and alcoholism on young children.   We distributed anti-parasite medicine and organized a trash clean-up in the school yard.
Then we grabbed picks and shovels and prepared the soil in a new adobe greenhouse in hopes that the children can supplement their diet with fruits and vegetables.  We transplanted grape, grenadilla, tomato and pepper seedlings.  Afterward we spent some time with one of the teachers who described the politics and reality of Peru's education system in rural Andean villages.
Pastor Roberto is helping to plant a Mennonite house church in Patabamba and we had lunch in the room where they meet each week.  We learned from the owner how his life has been transformed, leaving a life of alcoholism and offering himself as a positive role model for his family and the community.
After lunch we followed our guide, Juan Hector, on a hike to the archaeological site at Tipon.  Most visitors arrive from below.  We came from above, which was quite an adventure given the condition of the trail.  We learned that the Inca leader Manco Inca Yupanqui used this place to develop irrigation technology.  His father, Pachacutec, relied on military might to expand the empire.  In contrast, Yupanqui focused on maintaining peace through equal distribution of resources.  The fountain that divides the water channel into four equal streams — and is still functioning 500 years later — is a perfect example of Yupanqui's egalitarian values and Incan ingenuity.