Mind, Body and Soul — Getting Ready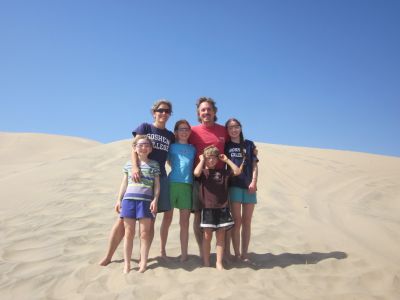 We spent this break between SST groups bringing closure to the previous semester while making plans for the next.  We read papers, finished grades and met with language instructors.  We developed a program of lectures, workshops and field trips and worked out the logistics with our coordinators.  Our children worked double time on their math, English and Spanish here at home.  Then we took a deep breath and stepped away from our work.
We encourage our students to prepare themselves for SST — mentally, physically and spiritually — as much as possible before their arrival here in Peru.  For our part, we decided to give our minds a rest by engaging in activities that would strengthen our bodies, refresh our souls and re-center ourselves in Christ.
We spent an afternoon with friends from church at the Parque de la Reserva, a.k.a. Water Park, the largest collection of fountains in the world.  The next day we went to another friends' home for dinner.  It turned out to be a surprise party for Jane and Jerrell, whose birthdays were on April 17 and 21.  Then we boarded a bus for Ica and found our way to a desert oasis called Huacachina for a few days of sun, sand and a chance to delight in God's creation.
This time away was just what we needed as we prepare for the arrival of twenty-one new college students — passionate learners, servant leaders, compassionate peacemakers and, soon to be, global citizens!
See you at the airport on April 25